Plans were presented to the public last week to built a 7-mile modern streetcar line in St. Louis that would:
Circulate in the downtown central business district.
Head west on Olive/Lindell past Midtown to the Central West End.
A north-south segment would connect at 14th Street & Olive, initially going north Florissant Rd to St. Louis Ave. and south to the Civic Center MetroBus Center/MetroLink light rail.
Open in 2016/17.
Metro is part of the planning process and this would become part of our transit system. But I know some of you still question the effectiveness of the streetcar over the bus. To be fair, here is a skeptical view that I happen to agree with.
Streetcars that replace bus lines are not a mobility improvement. If you replace a bus with a streetcar on the same route, and make no other improvements, nobody will be able to get anywhere any faster than they could before. This makes streetcars quite different from most of the other transit investments being discussed today.

Where a streetcar is faster or more reliable than the bus route it replaced, this is because other improvements were made at the same time — improvements that could just as well have been made for the bus route. These improvements may have been politically packaged as part of the streetcar project, but they were logically independent, so their benefits are not really benefits of the streetcar as compared to the bus. (source – highly recommended)
He's right that streetscape improvements are just as important as the mode of transit, but funding realities mean a complete makeover of 7 miles for a bus isn't very likely. Even if it was, a streetcar is a better choice for other reasons:
Streetcar vs. Bus

Buses are excellent local and regional public transportation options, but they will do little to spur redevelopment and economic investment in Downtown LA. This is due to the inherent flexibility of bus service, as routes change regularly to accommodate varying needs; in addition, buses contribute to nerve-racking pedestrian experiences due to heavy street-level emissions and noise pollution that discourages active use of sidewalks. Streetcars do the exact opposite. They provide developers and business owners certainty that the routes will not change, and are considered preferable to buses by residents, visitors, and employees as they offer more amenities, highly reliable routes and timetables, and enhanced urban experiences.

Buses and streetcars do, however, work together to connect access points within regional transportation networks. For example, sidewalks can be designed to specifically accommodate both vehicle configurations; in return, a transit stop effectively doubles its value within a regional transportation network. (LA Streetcar)
And…
While it's true that streetcars require a much larger initial capital investment than buses, that capital cost is offset by significant operational savings year to year. In the long term, streetcars are more affordable as long as they are used on high ridership routes.

Streetcars have higher passenger capacity than buses (even bendy ones), which means that if there are lots of riders on your route, you can move them with fewer vehicles. Fewer vehicles means more efficient use of fuel and fewer (unionized, pensioned) drivers to pay.

Streetcar vehicles themselves are much more sturdy than buses, and last many decades longer. While buses must generally be retired and replacements purchased about every 10 years, streetcars typically last 40 years or more. For example, Philadelphia's SEPTA transit system is still using streetcar vehicles built in 1947. (Washington Post — recommended)
Even in Portland the value of streetcars have been debated, critics questioning claims of Mayor Hales:
So that brings us to the ruling. Hales said "streetcars carry more people than buses … you attract more riders who don't ride transit now, and actually the operating costs are not any greater than the bus." Whether these arguments make a persuasive case for the necessity and usefulness of a streetcar system is, of course, up for debate. The statement itself remains factual. While, there's some missing context, it's nothing significant. We rate this claim True. (PolitiFact Oregon)
For a detailed look at operating costs of streetcars vs bus click here. Labor tends to be a big factor why streetcars are cheaper to operate.
For the poll this week I want you to vote on your preferred route. I've included "don't build" as an option as well as my idea of Olive to Vandeventer to Delmar: described here.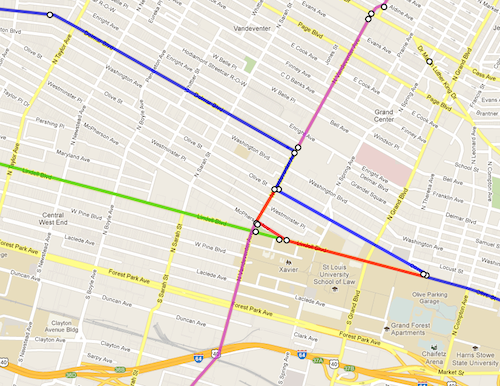 The poll also has the two options from the study (p17):
My views on a St. Louis streetcar are evolving, more on Wednesday March 20. The poll is in the right sidebar (mobile users need to switch to the desktop layout)
— Steve Patterson