The short stretch of 7th Street from Washington Ave north to Convention Plaza (formerly Delmar) has been a dead zone for years. That's changing thanks to the old Dillard's building being occupied by a hotel, apartments and soon several street-level uses facing Washington Ave.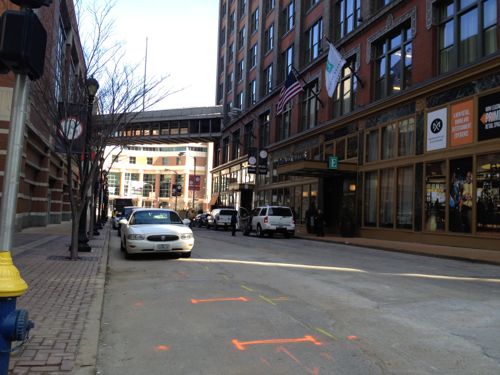 Both the Embassy Suites Hotel and Laurel Apartments face 7th Street, creating daily activity not seen in decades. The hotel's 212 guest suites and the 205 apartments can potentially put a lot of feet on the sidewalks in the area, but only if their are places to walk to.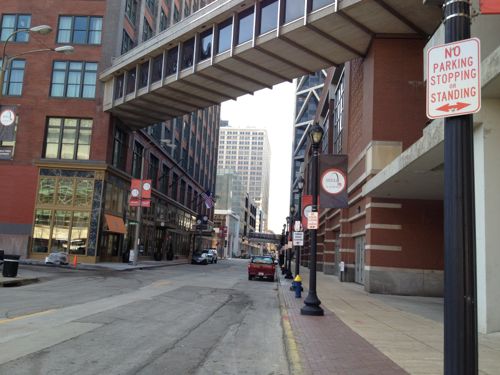 Parking isn't allowed on 7th which then looks too wide and empty. However, people are parking on the street at times and the hotel valet is using part of the space. But once you remove the parked cars the excessively wide street looks abandoned.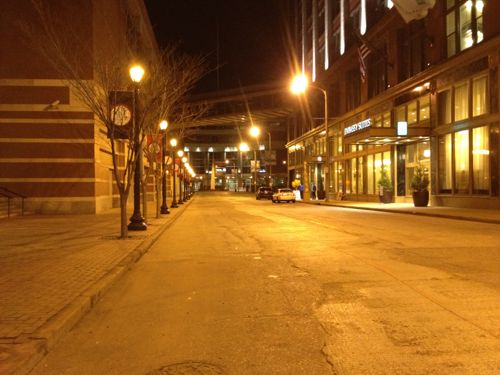 In terms of active facades the east side of the street is good with the hotel and apartment entrances & visible lobbies. Â The west side of 7th is totally dead though.
The architects did a good job breaking up this facade and trying to make it look hospitable but it's nothing more than a gussied up blank wall, lipstick on a pig.
Are we just stuck with one side of 7th Street remaining dead forever? I don't think so.
We need the Convention & Visitors Commission to look at activating the 7th Street facade of America's Center. From a retail perspective the MetroRide store is a total dud occupying what should be a very active corner between the convention center and a MetroLink station.
– Steve Patterson