Previous posts on the O'Fallon Park Recreation Center covered the political standoff (Poll: Thoughts On The Not Yet Open O'Fallon Park Recreation Complex) and agreement (Readers Split On O'Fallon Park Controversy, Agreement Reached), today I want to talk about how to reach the Rec Center once it opens.
Many residents using the new facility, as well as YMCA/Herbert Hoover staff, will drive there. But others will walk or bike there and still others will come from further away riding the #74 (Florissant) MetroBus. I'll cover all modes but lets start with transit and pedestrians.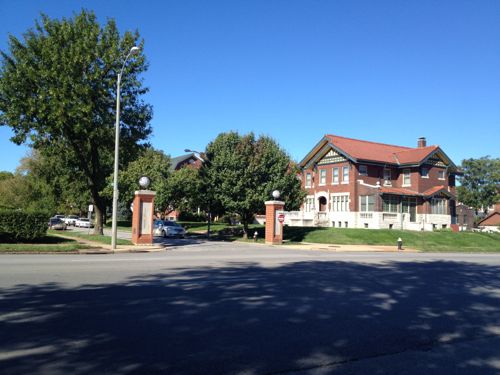 b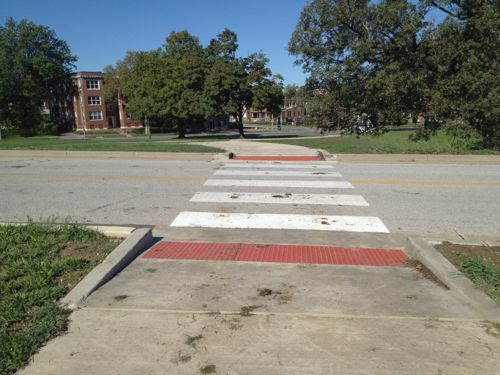 As the pictures above show, the pedestrian access from the nearby neighborhood, Florissant Ave. and MetroBus is excellent. A straighter path would be a shorter but not possible due to the grade change. Besides, if you're going to work out saving a few steps probably isn't a priority. Pedestrians just have to cross one internal park roadway, they don't have to walk in it. Unless they are coming from or going to the O'Fallon Park Boathouse or if you live to the southeast of the park, across Harris & Adelaide Avenues, then access is tricky through the park or requires walking in the park roadway or going out to Florissant Ave and then back in.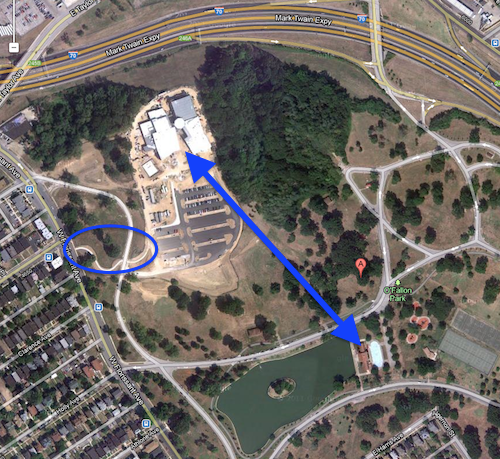 On to bicycling and driving. Cyclists can use the roadway so from that perspective their fine but I have serious issues with the bike rack selection and installation.
Architects love this bike rack design, even though it is a poor choice for securing a bike and most of the time they are installed incorrectly, as was the case here. When used as designed they can only secure the frame at one point, they should be loaded from both sides. The four racks shown here are designed to hold a total of 28 bikes. Another area with more of the same rack is to the left.
Better bikes racks would've been less expensive. Total failure on the part of the architects and/or client (city parks dept).
With the exception of the choice of bike rack and lack of connection to the O'Fallon Park boat house and adjacent tennis courts I'd say access is very good. It's far better than trying to reach the sister facility in Carondelet Park from nearby neighborhoods.
— Steve Patterson