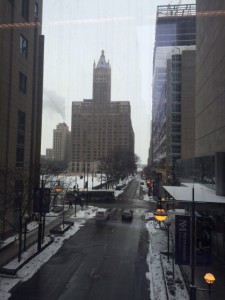 My husband and I had planned to return to St. Louis from Valentine's weekend in Chicago via Amtrak late Sunday night — well technically just after midnight Monday morning. Sunday we realized the weather would make it difficult for me — arriving so late there wouldn't be MetroBus service and getting the nearly 3/4 of a mile home on un-shoveled sidewalks in frigid temperatures wasn't an option.
We tried to reserve a wheelchair taxicab from both companies that offer that service — but cited the coming storm as to why they couldn't pick me up. My husband needed to be able to go to work Monday, so he left on our scheduled train but I changed my ticket to Tuesday morning — today. I'll arrive later this afternoon.
The temperature will still be frigid and the sidewalks unusable, but I've arranged for a wheelchair taxicab to pick me up.
As a first, this post was started as a note on my iPhone Sunday night and finished at a Panera on my iPad Monday morning. The snow was good in that it forced me to learn to post from my iPad on the go.
— Steve Patterson