Living at 16th & Locust is very convenient to the downtown central business district (CBD), central library, city hall, numerous MetroBus lines, Washington Ave nightlife, etc.  It's also very close to where many of the region's homeless hang out — not a problem for me. In fact, when I'm out in my wheelchair I'm often mistaken as homeless. My white middle-class neighbors ignore me on the sidewalk, church groups passing out food from car trunks/vans offer me a meal, the homeless ask me if I have a cigarette or light.
Part of it is that I rarely dress to impress, shorts/faded jeans  & t-shirt are common. Another is the wheelchair. My power chair is now seven years old, it's showing its age. Still, few disabled homeless have power chairs, most use manual wheelchairs. Still, I think many assume a person in a wheelchair passing the library is a homeless person.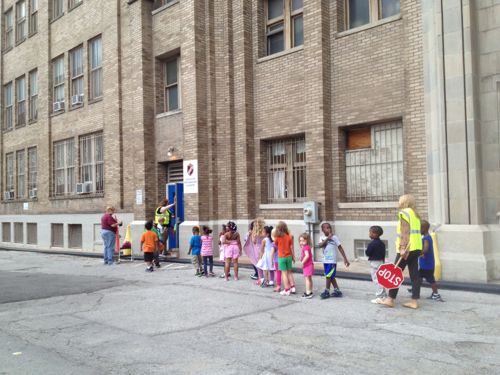 As is often the case I was returning home from Culinaria as grade school students were returning from recess in Lucas Park. The Locust sidewalk is narrow next to the building so I waited as they passed by, many of the kids said hello as they walked single-file past me. But one girl asked, "Do You Have A Home?" Caught off guard, I quickly replied, "Yes, a few blocks away — a nice loft."
I didn't expect such a question, earlier that morning I attended the ULI presentation on the Railway Exchange Building (see What To Do With 1.2 Million Square Feet In The Railway Exchange Building) — I was dressed my best that day: new jeans, white dress shirt, custom-made sport coat. Weeks later is still bothers me this little girl thought I was homeless.
I do think kids raised seeing all facets of society will be better prepared for life when they go out on their own, those raised strictly within their economic class will need to adjust more as adults. I'll likely email the staff at Lafayette Prep to inquire about their conversations with students about homelessness.
— Steve Patterson