On Saturday May 13, 2006 a new farmers' market opened for business. I was there that morning and posted the following:
My first photo of Tower Farmers' Grove Market; 9:30am on the very first day.

The speeches haven't even begun opening the Tower Grove Farmer's Market but if the first few hours are any indication, it will be hugely successful.

Occupying a small paved area west of the Pool Pavilion (which itself is on the West side fo the traffic circle), the market was full and vendors and paying customers.

Organic produce, live plants, eggs and meats. Other local items such as handmade soaps, bread, and pasta rounded out the selection.

The only problem was really a good one, lots of people and bicycles. It was crowded but that added to the feeling of success. Had the same number of people and vendors been spread over a wider area it wouldn't have been as good.

Bike parking was an issue so some secured their bikes to the fence of the nearby tennis courts or light poles. Hopefully before the end of the market in October some bike racks can get installed nearby. Joining the Friends of Tower Grove Park might help that cause.

I noticed many residents walking to the farmer's market both from Tower Grove South and Shaw neighborhoods. That is really great as I'd hate to see so many cars in the park that someone starts thinking a parking lot is needed.

Big kudos to all the organizers, sponsors and elected officials (including Ald. Jennifer Florida), for making this happen.
Here are some more images I took that morning: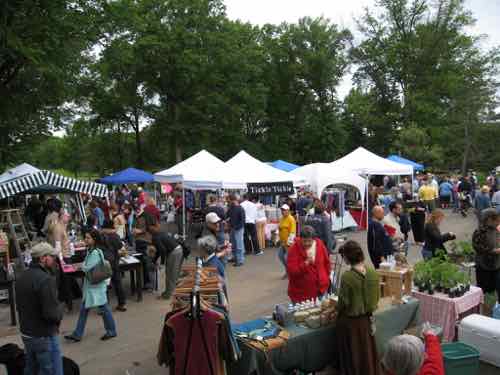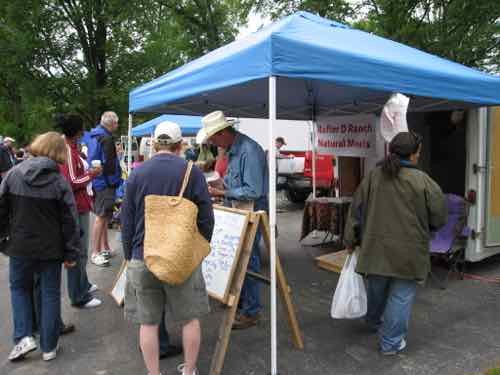 Tomorrow it's hosting a festival (8am-5pm) to celebrate the current season — the 10th:
We are thrilled to be celebrating our 10th Season at the mark of midsummer. We want everyone to come celebrate with us – if you only make it to one market each season, this is the one! You've made the market what it is today – a bustling weekly destination for dozens of local farmers and food producers and thousands of St Louisans – and we hope you will come celebrate the wonderful market you have built. We are staying open until 5pm to give everyone extra time to make it out! (Tower Grove Farmers' Market)
I asked and conformed the Tower Grove Farmers' Market is participating with other local farmers' markets in a great program to get quality fruits & vegetables in the hands of low-income customers:
A new program at several local farmers markets will give low-income customers double the value for money spent on fruits and vegetables.

Under the St. Louis Farmers Market Association's new "SNAP 2 It!" Program, recipients of the Supplemental Nutrition Assistance Program, or SNAP, can get each dollar spent on these fresh foods matched. The program is modeled on others around the country that have been successful. (St. Louis Public Radio)
They'll match up to $20! Congrats to Jenny, Patrick, and everyone else on the start of the 10th season!
— Steve Patterson