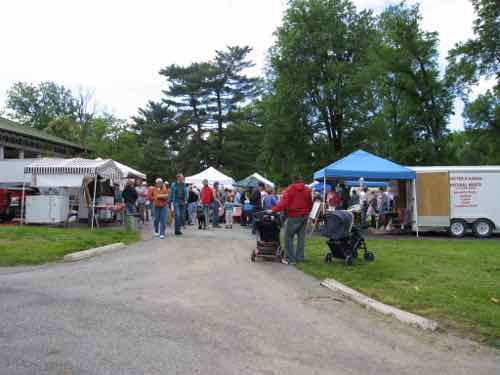 The speeches haven't even begun opening the Tower Grove Farmer's Market but if the first few hours are any indication, it will be hugely successful.
Occupying a small paved area west of the Pool Pavilion (which itself is on the West side fo the traffic circle), the market was full and vendors and paying customers.
Organic produce, live plants, eggs and meats. Other local items such as handmade soaps, bread, and pasta rounded out the selection.
The only problem was really a good one, lots of people and bicycles. It was crowded but that added to the feeling of success. Had the same number of people and vendors been spread over a wider area it wouldn't have been as good.
Bike parking was an issue so some secured their bikes to the fence of the nearby tennis courts or light poles. Hopefully before the end of the market in October some bike racks can get installed nearby. Joining the Friends of Tower Grove Park might help that cause.
I noticed many residents walking to the farmer's market both from Tower Grove South and Shaw neighborhoods. That is really great as I'd hate to see so many cars in the park that someone starts thinking a parking lot is needed.
Big kudos to all the organizers, sponsors and elected officials (including Ald. Jennifer Florida), for making this happen.
See additional photos on Flickr.
– Steve