More than six decades ago 9th & 10th streets were changed from two-way to one-way in the opposite directions — a one-way couplet. This still exists from Clark Ave on the south to Cass Ave on the north — a distance of 1.2 miles. The north end used to continue past Cass to connect to I-70, but it was shortened when construction on the newest bridge over the Mississippi River began approximately 15 years ago. The south end still connects to I-64 ramps.
The purpose of one-way streets decades ago was to quickly get cars into downtown in the morning, then back out after work. They did their job…a little too well. Downtown was so quick to empty out nobody stuck around for shopping, dinner, or a show. There many reasons why downtowns emptied out, but one-way streets were a major contributor. To make downtown St. Louis enjoyable as a place to live, work, and visit all the one-way streets need to return to two-way traffic eventually. When Locust Street west of 14th switched back to two-way a dozen years ago it made a huge difference.
For nearly 50 years  9th & 10th extended north of Cass Ave to connect to I-70, but that ended with the 2010 start of a new bridge over the Mississippi River, later named the Stan Musial Veterans Memorial Bridge. But downtown 9th & 10th weren't the original couplet of paired opposite direction one-way streets.
Let's look at the original one-way couplets in the downtown central business district (Arch to 12th/Tucker):
Northbound 4th & southbound Broadway (aka 5th)
Southbound 6th & northbound 7th
Southbound 8th & northbound 9th
Southbound 10th & northbound 11th
The first still exists today, the rest have all been changed to the point they no longer function as original intended. Three streets lots blocks to the convention center & dome: 6th, 7th, 8th. Ninth will soon be added to that list.  Sixth street lost blocks to Kiener Plaza & the hotel south of Market. Both sixth & seventh streets lost blocks to the original downtown Busch Stadium (now Ballpark Village), and the current Busch Stadium. And finally northbound 9th Street is closed for one block between Market & Chestnut because the designers of Citygarden didn't think about a pedestrian signal at 9th & Market. D'oh!
I've posted about changing these opposite one-way streets back to two-way traffic numerous times, but now it's urgent. When the convention center expansion begins a couple of blocks of 9th will be closed, but that's not the urgent reason for restoring two-way traffic. The vacant AT&T Tower downtown at 909 Chestnut (bordered by 9th, Chestnut, 10th, and Pine) is why these streets need to revert to two-way traffic. Why?
The entrance and exit to the small underground garage was designed with the one-way streets in mind, the entrance was off northbound 9th and the exit was onto southbound 10th. The 44-story building has been vacant since 2017, but eventually someone will renovate it. When they do it would be easy to switch the entrance and exit. If the building is renovated while 9th & 10th are still one-way it'll be impossible to make them two-way in the future.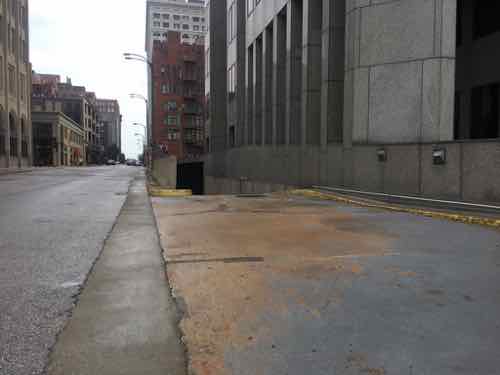 Since built, exiting traffic has come out southbound just before Chestnut. Switching the exit from 10th to 9th wouldn't change this potential conflict point.
The building has lost value and changed hands numerous times, eventually someone is going to renovate it. 

The 1.4 million-square-foot, 44-story office building on Chestnut Street is the largest office building by square-footage in the region, and the 1986 structure built for a single tenant has posed a vexing challenge amid a downtown market already struggling with the highest office vacancy rate in the metro area. 

AT&T vacated its lease in September 2017 and about 2,000 of the company's employees relocated nearby in buildings at 801 Chestnut and 1010 Pine streets. (Post-Dispatch, May 2019)
For comparison here are some other large vacant buildings downtown
Since 909 Chestnut was built as a headquarters it was connected to buildings to the east & west. Another block west was a large company parking garage. The garage under 909 Chestnut is small, was built for service vehicles and company executives. A MetroLink light rail station is only a block away, but parking obsessed assumes everyone has a car.
The building footprint is too small to ramp up to use some upper floors for parking. A car elevator or automated system are the only options to get cars up higher, but they're very costly.
Eventually someone will figure it out. When they do 9th & 10th should be two-way traffic.
— Steve Patterson