Enclosed walkways over public sidewalks are generally a bad idea — removing pedestrians from the public realm. However, with these elevated walkways often comes the real culprits to killing sidewalk life: blank walls, inward focus, etc.
A prime example of what not to do in a downtown was downtown St. Louis' St. Louis Centre indoor mall.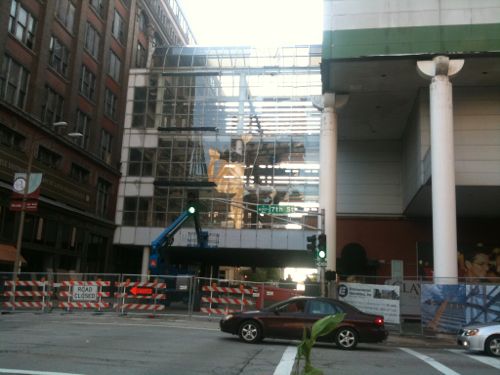 It was 8 years ago today that a big event was held to begin the removal of the very oppressive walkway from over Washington Ave — the first step in transforming the inward-focused mall into outward-facing MX retail with the interior becoming a parking garage.
See:
Two other walkways have been removed in the last year, one on each side of the former Southwestern Bell headquarters, later an AT&T building on Chestnut between 9th & 10th. The walkways connected the now vacant tower, now longer owned by AT&T with an older Bell building to the West and a 90s data center to the East.
These walkways were very different than those at the former St. Louis Centre — up high, small, transparent, These allowed employees to walk to/from all 3 buildings without having to keep going through security. With AT&T's significant reduction in the number of downtown employees the center towner became unnecessary. The tower's new owners needed to reconfigure the tower from a single-occupany headquarters into a multi-tenant building. For them and AT&T that meant disconnecting the three buildings.
The exteriors are all repaired now, though all three buildings are lifeless at the sidewalk level. This us by design. The removal of these two walkways won't have the dramatic results we've seen at MX.
St. Louis has systematically killed street life block by block, neighborhoods by neighborhood. Attempting to bring back vibrant sidewalks for more than a few blocks here or there is likely a waste of time at this point.
— Steve Patterson