Two years ago the long process of demolishing the massive pedestrian bridge over Washington Ave was underway. The much-anticipated work began with the "Bridge Bash" on May 21, 2010. At the time it seemed like demolition was taking forever, but it took just over a month to remove the bridge and reopen the street to vehicles and pedestrians.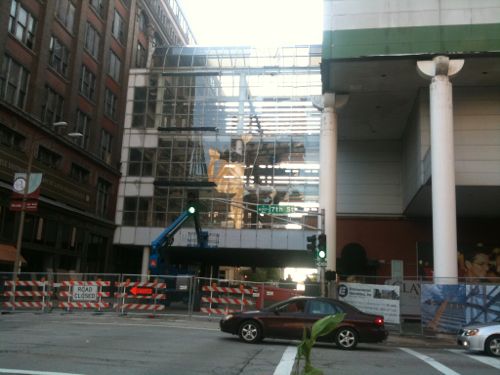 Work to reskin St. Louis Centre, patch the damage to the Dillard's facade, convert the Dillard's into the Laurel Apts and Embassy Suites did take much much longer. That was then.
Finally yesterday, something I'd long anticipated, Pi Pizzeria opened a downtown location. A week ago I stopped by and got a tour from owner Chris Sommers while managers were training new employees. Their other locations are all in 100+ year old buildings, this is their first in basically a new unfinished box.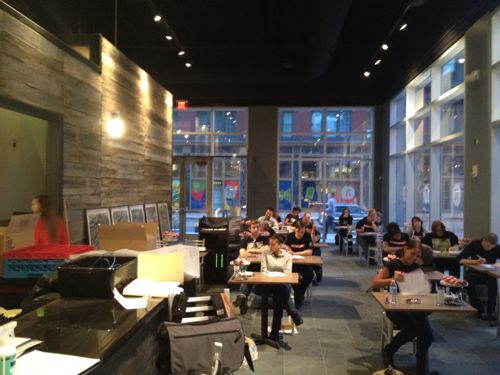 Ok, so a pizza place opened? Big deal? Well yes, Pi Pizzeria is the the first business to open in the MX. Soon a movie theater and an upscale Asian restaurant will open in the same building. Across Washington Ave will be a wine bar and the National Blues Museum. This will be another spot of activity along Washington Ave.
Those downtown that think this is too far to walk can take the #99 (Downtown Trolley) to get here from various points, well, except on Sunday because the trolley doesn't operate at all unfortunately.  The Convention Center MetroLink is at this corner as well so that's another option. The building has tons of parking and hopefully short-term on-street parking will be aded along this part of Washington Ave soon. In another two years we"ll have forgotten all about that horrible  bridge that blocked vistas.
– Steve Patterson