Over a year ago I posted about one of the many poorly design/constructed curb ramps in this city, see Shoddy Curb Ramp/Crosswalk At 16th Street & Market St  from May 2016. Here are a couple of images from that post:
At some point in the last year I was told the city will be correcting this ramp. I've been through this intersection a lot over the last few months and hadn't noticed a change — until the other day. While I was glad to see the city hadn't forgotten about it, I was disappointed by what was done.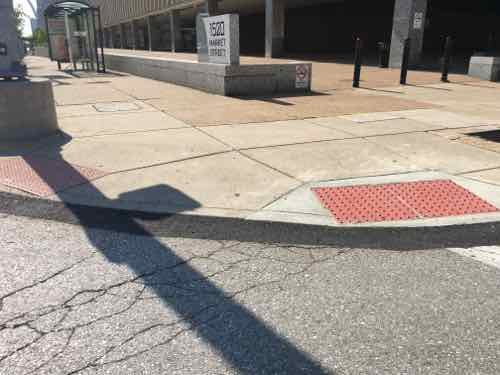 So the city has gone from an "F" to a "C-". How much did this cost? What does it take for the city to do A or B work?
I know, I should just accept this city doesn't care about pedestrian like it does motorists, crappy pedestrian infrastructure has been the norm for too long.
— Steve Patterson