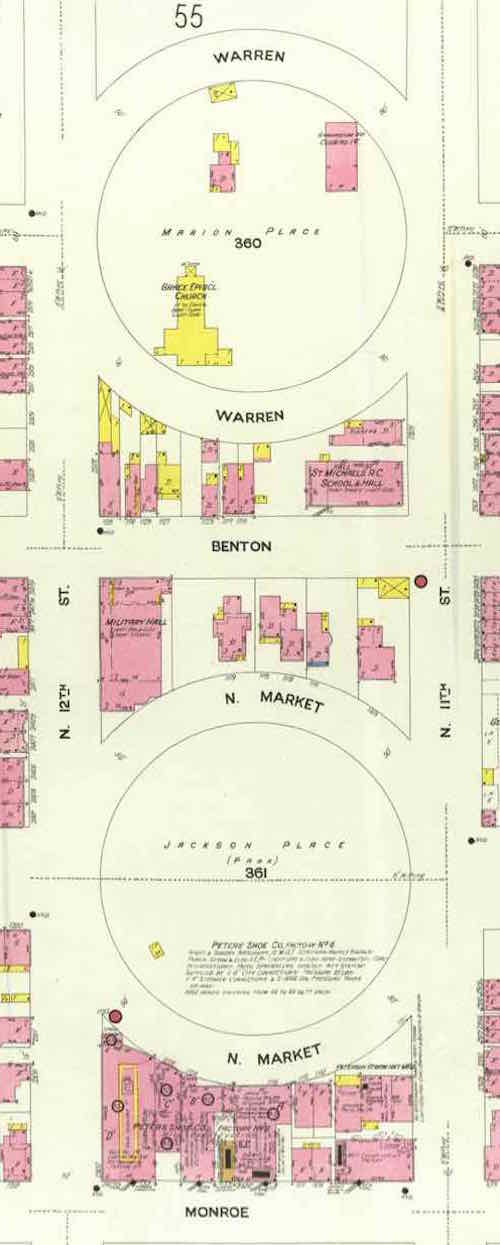 Twenty-Five years ago I'd just moved to the Murphy-Blair neighborhood, now known as Old North St. Louis. The tiny 3-room flat was significantly cheaper than the tiny efficiency I had on Lindell in the Central West End.
Prior to my arrival, neighbors had already been trying to get the neighborhood's name officially changed. They thought playing off the history was better than being named after a public housing complex.
That history is the area was founded as a separate village — North St. Louis — on June 29, 1816. St. Louis was founded 50+ years earlier, in February 1764.
June 29, 1816:

A town was incorporated which rivaled its southern neighbor, St. Louis, for many years. The new town, founded by Maj. William Christy, was named simply "North St. Louis." Its southern boundary line was Madison Street, then a considerable distance from the northern boundary of the city which Christy and his associates referred to as "St. Louis under the hill."

Christy had come to St. Louis from Pennsylvania with advanced ideas about city planning. With two partners, he proposed a scheme for developing a city which would appeal to the settlers flocking in from the East. Street names reflected the founders' interest in politics — Madison and Monroe; Benton for the young lawyer who would become one of Missouri's first senators; and Warren, for a hero at Bunker Hill.  A boatyard was established, and inducements offered steamboats to land at North St. Louis instead of farther downstream. A ferry made regular runs between North St. Louis and Alton.  In 1841, just a quarter century after its founding, the city was absorbed into St. Louis. (Source: St. Louis Day by Day by Frances Hurd Stadler, page 122) 
bHere's another quote, this from the City of St. Louis:
The first attempt to develop this area was made in 1816, when the Village of North St. Louis was incorporated by William Chambers, William C. Christy and Thomas Wright. It was bounded by the present Monroe, Hadley, Montgomery Streets and the Mississippi River. It continued as a village until 1841 when it was absorbed into the City of St. Louis.

A unique feature of the village layout was the provision for three circular public use areas. These were Clinton Place as a school site, Jackson Place for recreational and assembly purposes and Marion Place for a church and cemetery. A public wharf at the foot of North Market Street was called Exchange Square.

The Village was to provide sites for mills similar to those in the New England hometowns of the village's first settlers.

The village was about a mile upstream above Roy's Wind Mill, which marked the northern limit of the town of St. Louis at the foot of Ashley Street, and on the Great Trail which later became North Broadway. Other prominent roads of the north side were Natural Bridge Road, which was laid out in the 1840's as a northwestward extension of Mound Street, and Florissant Road which was a northward continuation of 16th Street in a western addition to the village. 
Today, North St. Louis generally refers to everything North of Delmar — the Delmar Divide. North St. Louis has more poverty, crime, abandoned buildings, & vacant land than the rest of St. Louis. Will this always be the case, or will it change over time?
Readers who voted in the recent non-scientific Sunday Poll were optimistic:
Q: In 25 years, will North St. Louis be better or worse than today?
Substantially better 13 [24.07%]
Better 13 [24.07%]
Slightly better 14 [25.93%]
About the same 6 [11.11%]
Slightly worse 2 [3.7%]
Worse 4 [7.41%]
Substantially worse 2 [3.7%]
Unsure/No Answer 0 [0%]
Nearly three-quarters feel North St. Louis will be better within a quarter century. I wish I could share their optimism, but the last 26 years have used up all the enthusiasm I had for the future of St. Louis. I do have fond memories of my 3+ years living in Murphy-Blair/Old North St. Louis.
— Steve Patterson