One hundred years ago today the 1916 Democratic National Convention was happening at St. Louis' new Coliseum, at Washington & Jefferson. Woodrow Wilson & Thomas R, Marshall were nominated for 2nd terms as President & Vice-President, respectively. As recently noted, the Jefferson [Arms] Hotel was the official host hotel, it opened in 1904.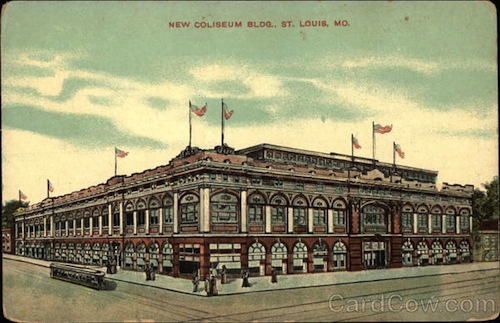 The old coliseum, better known as St. Louis Exposition and Music Hall, had been located between 13th-14th on Olive — after just 24 years it was razed in 1907 to build our Central Library, which opened in 1912.
Three national nominating conventions were held in three separate buildings in or near the complex between 1888 and 1904 including the 1888 Democratic National Convention, 1896 Republican National Convention, and 1904 Democratic National Convention. In addition to the 1904 Democratic convention, it was used as a large venue for other conventions and congresses during the 1904 World's Fair.
The 1896 Republican National Convention, held in St. Louis, began 120 years ago tomorrow.  My loft is just blocks from where all this took place, but mansions lined Locust St back then, known as Lucas Place at that time.
Back to the present day and the nominations for the conventions that start in July, not June as they used to.
There is a growing feeling among many of us that 1) the way the two major parties pick their nominee is flawed and 2) having a two-party system has failed the country. From a recent poll:
Some of the poll's key findings are:

Just 10 percent of Americans have a great deal of confidence in the country's overall political system while 51 percent have only some confidence and 38 percent have hardly any confidence.
Similarly, only 13 percent say the two-party system for presidential elections works, while 38 percent consider it seriously broken. About half (49 percent) say that although the two-party system has real problems, it could still work well with some improvements.
Most Americans report feeling discouraged about this year's presidential election. Seventy percent say they experience frustration and 55 percent report they feel helpless.
Few Americans are feeling pride or excitement about the 2016 presidential campaign, but it is grabbing the public's attention. Two-thirds (65 percent) of the public say they are interested in the election for president this year; only 31 percent say they are bored.
The public has little confidence in the three branches of government. A quarter (24 percent) say they have a great deal of confidence in the Supreme Court and only 15 percent of Americans say the same of the executive branch. Merely 4 percent of Americans have much faith in Congress. However, more than half (56 percent) of Americans have a great deal of confidence in the military.
Only 29 percent of Democrats and just 16 percent of Republicans have a great deal of confidence in their respective parties. Similarly, 31 percent of Democrats and 17 percent of Republicans have a lot of faith in the fairness of their party's nominating process.
Neither party is seen as particularly receptive to fresh ideas. Only 17 percent of the public say the Democratic Party is open to new ideas about dealing with the country's problems; 10 percent say that about the Republican Party.
The views of ordinary voters are not considered by either party, according to most Americans. Fourteen percent say the Democratic Party is responsive to the views of the rank-and-file; 8 percent say that about the Republican Party.
Most Republicans (57 percent) say Trump's candidacy has been good for the Republican Party, although only 15 percent of Democrats and 24 percent of independents agree.
Nearly two-thirds (64 percent) of Democrats say Sanders' bid for the nomination has been good for the Democratic Party, along with 43 percent of Republicans and 22 percent of independents (54 percent of independents report it is neither good nor bad).
What options exist?
In multi-candidate races, the winner is often the person with the most dedicated base, not the most widespread support. In many cases, the majority of voters backed another candidate, leaving much of the electorate dissatisfied with the outcome and the winner with a dubious mandate to govern.

Both Republicans and Democrats have attempted to address that in presidential primaries with complicated delegate allocation formulas. But some voters in Maine who have wrestled with a similar problem think they've hit on a simpler solution: let voters rank their favorite candidates.

In November, Maine voters will decide whether they want to become the first state in the U.S. to implement ranked-choice voting. If a ballot initiative is approved, future Maine voters in primaries and general elections will be allowed to rank their choices for governor, Congress and statehouse races instead of voting for just one. If no one gets a majority in a race, the candidate who came in last is eliminated and the second choices of their voters are redistributed, in much the same way that a runoff election works. That process continues through multiple rounds until a single candidate reaches a majority. (Time)
See a 1:11 minute video illustrating ranked-choice voting here. Though we haven't hosted a nominating convention in decades, we do still play a roll in the election process. Once again, a general election debate will be held at Washington University in St. Louis. Back in September the non-profit Commission on Presidential Debates (CPD) selected Washington University in St. Louis to host a debate on October 9, 2016.
Washington University has earned the distinction of hosting more debates than any other institution in history. This is the sixth time the university has been selected by the CPD to host a debate since 1992, and it will be the fifth debate to be held at the university. The presidential debate scheduled at the university in 1996 was canceled just two weeks prior. (Washington University)
Don't expect to see Libertarian or Green candidates in these debates, the CPD reinforces the 2-party system. Which brings me to the recent non-scientific Sunday Poll:
Q: Agree or disagree: the presidential nominating process in both major parties should be revised
Strongly agree 13 [40.63%]
Agree 9 [28.13%]
Somewhat agree 3 [9.38%]
Neither agree or disagree 3 [9.38%]
Somewhat disagree 0 [0%]
Disagree 1 [3.13%]
Strongly disagree 2 [6.25%]
Unsure/No Answer 1 [3.13%]
Count me among the the 3/4 who think we need major changes to how we elect presidents to local officials.
— Steve Patterson