We're all invited to a riverfront picnic next week, Thursday June 2nd.  No blanket needed — a 2,016 foot-long table will be set up, chairs provided.
From the official press release:
Great Rivers Greenway, the City of St. Louis, CityArchRiver Foundation and other partners invite residents from across the region to join them in celebrating the transformation of the St. Louis riverfront on Thursday, June 2. The organizations will be hosting a "Picnic on the Riverfront" event from 5:00 to 8:45 p.m., which will feature St. Louis' largest-ever community picnic – complete with a 2,016-foot-long table with chairs – to commemorate the opening of the new riverfront beneath the Gateway Arch.

The official ribbon cutting on June 2 will begin at 5 p.m. on the overlook stage along Leonor K. Sullivan Boulevard, with remarks from dignitaries and partners. Afterward, attendees can explore the nearby Mississippi Greenway, enjoy local music and educational activities for kids and purchase dinner from food trucks and other vendors. People are also welcome to bring their own picnic meal. An interfaith blessing will kick off dinner at 6:15 p.m., followed by an aerial photo of all the picnickers. The event will end with a brief fireworks display at 8:30 p.m.

"This new front door for our region celebrates the energy, adventure and awe of the mighty Mississippi and our iconic Gateway Arch," said Susan Trautman, Executive Director of Great Rivers Greenway, the regional parks and trails district and lead agency on the project. "We invite people to bring their friends, family and neighbors from all parts of the region to celebrate."

The renovation of the 1.5-mile stretch of riverfront includes the recently rebuilt Leonor K. Sullivan Boulevard and extension of the Mississippi Greenway from the Biddle Street Trailhead south to Chouteau Avenue, with protected walking and biking paths. The entire riverfront was elevated an average of almost two feet to limit flooding, returning more days of the year back to the community for walking, riding bikes, sightseeing and special events. While the historic elements were preserved, such as the cobblestones lining the levee; new amenities such as benches, bike racks, lights, power outlets and a street-level stage will make the space more inviting for events and programs. The lineup for this summer and fall includes bike rides, walk/run events, the St. Louis Brewers Guild Heritage Festival, a free concert series with The Sheldon, swap meets and more.
Earlier this month, on May 8th, my husband and I decided to check on the progress from the Eads Bridge. First though, a photo from September 2015: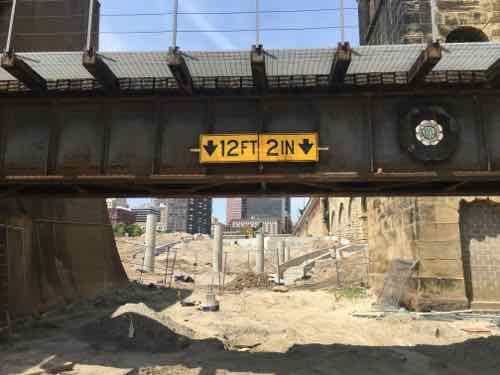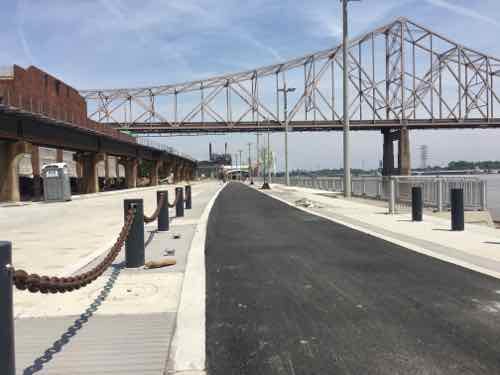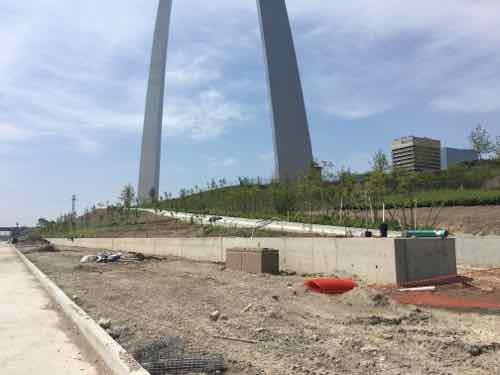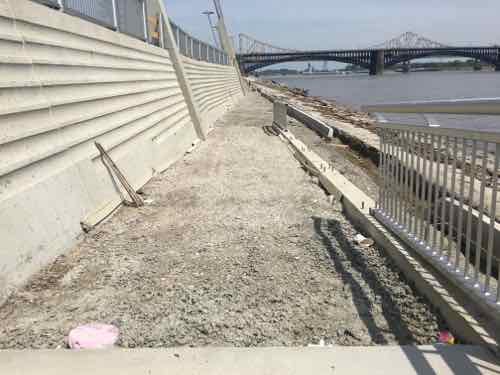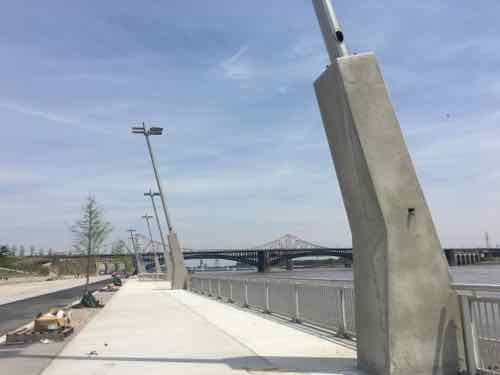 So bring food, buy from food trucks, or just show up on June 2nd. I'm looking forward to exploring from end to end. Access is best from Chouteau or Laclede's Landing Blvd (under the King Bridge).
For more event information see:
I'll do a complete review after completion.
— Steve Patterson