We can all agree St. Louis must retain existing employers and attract new ones. Unfortunately, St. Louis has a habit of forgetting about urban design along the way.   Let's take a look two examples; one within the proposed 100 acres site for the National Geospatial-Intelligence Agency and one to the immediate West.
First is a warehouse currently occupied by Faultless Healthcare Linen.
I remember when this was built in 1991 — I'd just moved to Old North St. Louis and passed it daily on Jefferson.  One street was closed, the rest are faced with blank concrete block walls.
The next example is Pharmaceutical company Sensient Colors Inc., their 30-acre campus at 2515 N. Jefferson is to the West of the potential National Geospatial-Intelligence Agency site.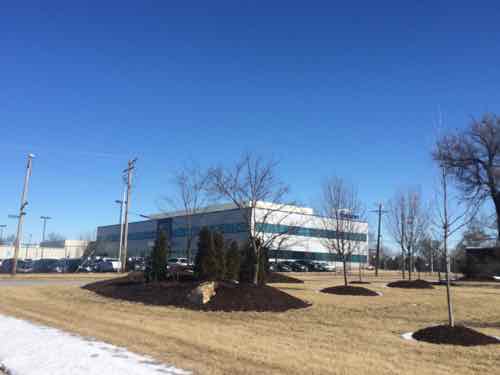 Never heard of Sensient? I hadn't either, but you've likely seen their products — on your plate.
Most of the world's largest food and beverage manufacturers use Sensient colors and flavors to make their household brand-name food and beverage products. (St. Louis Business Journal)
Now, the demand for natural colors is suddenly outpacing demand for synthetics, and Sensient, which makes both, is responding. It has sophisticated technology it won't explain (it does mention doing "supercritical CO2 extraction") to pull the coloring agents from botanicals. It has a Fusion Precise Natural Color system that lets customers specify not just a particular color, but also a subtle shade of that color. And it has a head start: 60 years' experience with natural colors. (St. Louis Magazine)
I get it, they have trade secrets. Still, in a city people do walk to work — especially from public transit. I believe we can retain/attract employers without turning our city into a suburban office park.
— Steve Patterson