Four decades ago today — February 19, 1975 — the Board of Aldermen took at step to save what little remained of the oldest part of the city:
A group of downtown bankers and businessmen, led by William Maritz announced the formation of a corporation to oversee development of the tiny group of remaining buildings along the riverfront levee. The Laclede's Landing Redevelopment Corporation was approved by the Board of Aldermen, which allowed interested owners to retain and improve their properties. Through the 1960's several proposals were put forth for the area, including one shortsighted suggestion of complete demolition. The area was listed on the National Historic Register in 1976, the first commercial district in St. Louis to do so. Laclede's Landing has since been on a steady upward path, with several local architects contributing to its renovation. The name "Laclede's Landing" is a relatively recent name that has been given to the site, as there were nearly 150 more blocks of a similar character that made up the St. Louis riverfront before the creation of the Jefferson National Expansion Memorial. (STL250 via Facebook)
The bulk of the original city had been razed 35+ years before to make room for a riverfront memorial — eventually the Arch we know today. In 1975 the Arch was open but the grounds not yet landscaped, the north garage not yet built.
In the last four decades the area hasn't been stagnant, buildings have been renovated while others have been lost. Most recently some sidewalks were improved, made more accessible.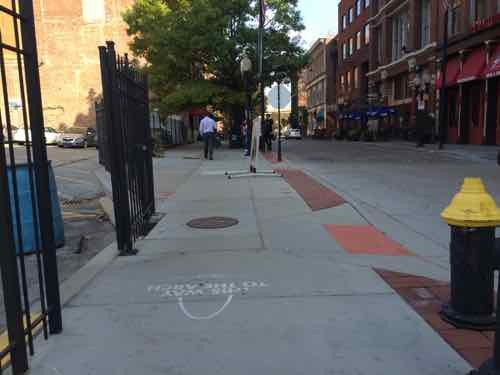 Despite recent progress, this summer a big employer will leave Laclede's Landing:
Following an extensive search, the Bi-State Development Agency (BSDA) is excited to announce the relocation of its headquarters to the Metropolitan Square Building at 211 North Broadway in downtown St. Louis. The move is planned for summer 2015.

Since 1982, BSDA has occupied space at 707 North 1st Street, which currently serves as the agency's headquarters for the Metro transit system, the Gateway Arch tram and ticket operations, St. Louis Downtown Airport, the new St. Louis Gateway Freight District, and the Gateway Arch Riverboats. The 117-year old building has approximately 100,000 square feet of floor space. (NextStopSTL)
Links:
Hopefully other businesses will take over the space that'll be vacated by Metro! I'm grateful that decades ago some saw the value of holding on the last remnants of the old city.
— Steve Patterson