Aloe Plaza, across Market from Union Station, was many  years in the making. President of the Board of Aldermen (1916-1923) Louis P. Aloe had championed a 1923 bond issue that included razing buildings across from Union Station to create a more attractive way to welcome visitors arriving by train.  Aloe died in 1929 but his widow continued his vision, from the city's former website on Aloe Plaza:
Edith Aloe, Louis P. Aloe's widow, became acquainted with the work of the Swedish sculptor, Carl Milles, at an exhibition of modern art held by the St. Louis League of Women Voters in 1930. The idea of commissioning Milles to build a fountain in Aloe Plaza grew out of her enthusiasm for his work.

But the country was in the middle of the Depression so her idea was put on hold until January 1936 when Mrs. Aloe gave a dinner in her home for the sculptor,Carl Milles, and members of the St. Louis Art Commission. She officially presented her check for $12,500.

The City signed a contract with Milles in 1936. Milles designed and cast the bronze statues for the fountain in his studio at the Cranbrook Academy of Art, Cranbrook, Michigan. The fountain was completed in November 1939, but remained veiled until its dedication on May 11, 1940 before a crowd of 3,000 persons.

The fountain, originally named "The Wedding of the Rivers," depicts the union of the Missouri and the Mississippi Rivers, represented by the two central figures. Accompanying the two main figures and forming a wedding procession are 17 water spirits, symbolic of the smaller streams that empty into the two major rivers.

An uproar arose over the nudity of the male figure, reprenting the Mississippi River and the female figure, the Missouri River. In deference to the criticism, the name of the fountain was changed to ,"The Meeting of the Waters." (PDF of website on Scribd)
Milles was in his early 60s when we was commissioned by St. Louis.
The former website listed the total cost of Aloe Plaza at $225,000, broken down as follows:
Fountains: $150,000
Statues: $60,000
Lighting: $12,000
Landscaping: $3,000
Tulips: $200
The cost of the tulips wasn't included in the total. Not listed was the cost to acquire the land and raze the buildings.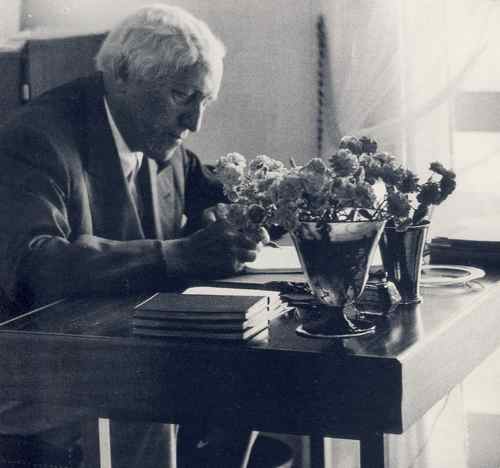 Milles died on this day in 1955 — 59 years ago.
May 11, 2015 will mark 75 years since Aloe Plaza was first dedicated and 'Meeting of the Waters' unveiled. Our IKEA store won't be open yet, but perhaps the Swedish retailer can be involved in a celebration.
— Steve Patterson