You're asking yourself, "Who was Paul Wielandy?" The 1906 book titled "The Book of St. Louisans: A Biographical Dictionary of Leading Living Men of the City of St. Louis and Vicinity" tells us about Paul J. Wielandy:
WIELANDY, Paul J., books and stationary; born Jefferson City, Mo., June 5, 1864; son of John F. and Junigunde (Wagner) Wielandy; educated in St. Louis public schools; married, St. Louis, June 28, 1904, Louise Angermueller. Entered employ of Shorb & Boland, wholesale booksellers and stationers, 1879; travelled for John L. Boland, successor of Shorb & Boland, in Colorado, New Mexico and Arizona. 1884-1901; in Jan., 1902, with A. M. Blackwell, of Las Vegas, N. M., organized the Blackwell-Wielandy Book and Stationary Co., of St. Louis, Mo., importers of jobbers of books, stationary, fancy goods, etc., of which is vice-president. Republican. Protestant. 32º Mason. Knight Templar. Club: Mercantile. Favorite recreations: fishing and hunting. Office: 714-720 Washington Ave. Residence: 2928 Harper St.   (pages 610-611)
His business address of 714-720 Washington Ave is now the site of the US Bank Tower, formerly Mercantile Bank. In 1907, the firm Wielandy used to work for, built a new warehouse at 1601 Locust:
In 1910, the Boland company was acquired by the Blackwell-Wielandy Book & Stationery Company which moved into the 16th and Locust building from their head quarters at 714-20 Washington Avenue. One of the founders of Blackwell-Wielandy, St. Louisan Paul J. Wielandy, formerly had been employed for twenty years as a sales man for Boland. During his pioneering years as Boland's representative in the Southwest, Wielandy met Missouri-born Arthur M. Blackwell who by then, was a successful merchant and bank director in New Mexico. In 1901, the two men returned to St. Louis where they established the firm bearing their names. Among the innovative new products first manufactured by Blackwell-Wielandy around 1912 were an adjustable ring device for loose leaf notebooks and the Blue Jay writing tablet — both popular items with the school trade. The Blue Jay brand was later extended to other supplies such as ink, crayons, paste aid composition and notebooks. (source)
Let's take a look: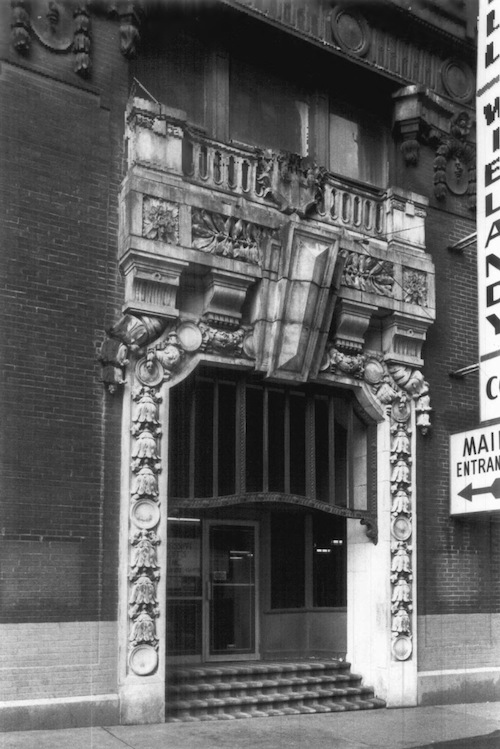 The building with the red wall, above, was built in 1919 as an annex to their original building. Within the last decade the annex was converted to condos, I've lived here since November 2007.  The original was wood framed, the annex has a concrete interior structure.
Paul J. Wielandy died on March 4, 1953, two months before his 89th birthday (death certificate), he's buried at Saint Peter's Cemetery in Normandy (find-a-grave entry).  According to the bio he was "a director of the Municipal Opera Association & of the St. Louis Safety Council & was a member of the first Highway Commission."  I need to research when Jefferson Ave was straightened out, widened, and connected to Natural Bridge, just blocks from Wielandy's home, no doubt he supported the idea, making his drive to work on Locust St easier.
— Steve Patterson