A few months ago a reader sent me an article about a trend toward new residential buildings constructed without parking:
A wave of new residential construction projects in places like Seattle, Boston, and Miami are showing that, yes, modern American cities can build housing without any car parking on site. (Real Estate Trend: Parking-Free Apartment Buildings)
It wasn't surprising to me to see this in cities that value the pedestrian and support public transit by actually using it. Here only a few of us value pedestrians, use public transit. Bankers wanted condos/apartments to have more than one parking space per unit, requiring a minimum of a 1:1 ratio. For example, a 100-unit project couldn't have 80-90 spaces, it needed at least 100 to get financing.
In Dcember Boston approved a new project with zero resident parking, raising eyebrows even there:
Recall that in September developer Related Beal asked for the BRA to approve a revised plan for the residential component of Lovejoy Wharf: 175 condos instead of a few hundred apartments; and, please, let us eliminate the 315-space garage. The developers' logic? There's so much public transit nearby and the project's smackdab in one of the nation's most walkable (and bikable) cities that it's sheer cloud cuckoo land to follow the Boston regs of at least one parking spot for every two housing units. (No Parking: Boston Green-Lights Car-Less Condo)
One space for every two units? St. Louis doesn't have any parking requirements downtown, but lenders mandate one space per unit. Outside of downtown at least one space per unit is required. What we need to do in places like downtown, around near light rail stations & bus transfer centers, is have maximum parking requirements, rather than minimums. I'd set the maximum pretty high initially, like 0.8/0.9 spaces per unit.  It could be set to automatically lower over the next 20-25 years, ending up at say one parking space for every two units.
Currently when most people rent an apartment, or buy a condo, they get a parking space included. Of course, parking isn't free, but the cost isn't clear to the consumer when it is bundled. Just the act of charging a separate fee will cause the end user to begin to evaluate/question car ownership. Instead of $800/month the apartment might be $750/mo with parking at $50/mo.
A few downtown buildings do this, one just reopened. CityParc is one of six 1950s buildings originally part of the urban renewal project called Plaza Square.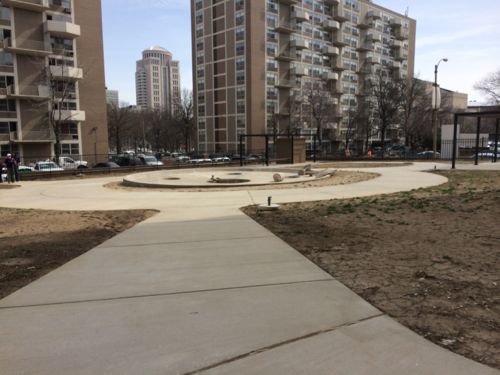 This is the only one of the six with garage parking, but even that isn't enough for one space per unit. Public policy has an impact on outcomes, require minimum parking you'll get more than necessary and fewer pedestrians.
— Steve Patterson