Not every crosswalk point in the city is marked with paint. Ninth Street at St. Charles St was such an example, a well-used point that was unmarked. Hotel guests cross here to reach the parking garage.  But unmarked crossing points can inadvertently get blocked by motorists.
The lane where the Golf is parked is has been marked as no parking for a long time, not sure why. On the morning of December 4th I met with traffic commissioner Steve Runde to discuss allowing parking on 9th, mentioning a crosswalk designation would be nice.  The following morning it was already done!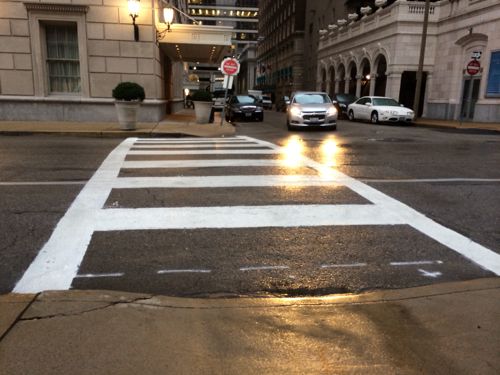 Should the crosswalk get blocked now it'll be easier to get parking enforcement to issue a ticket. Once the parking meters get installed on 9th I'll do another post.
Thanks to Steve Runde for listening and responding!
— Steve Patterson