It isn't unusual for local restaurants to bake their own desserts, breads, buns, and rolls. What is unusual is to have the operation visible to pedestrians passing by on the public sidewalk!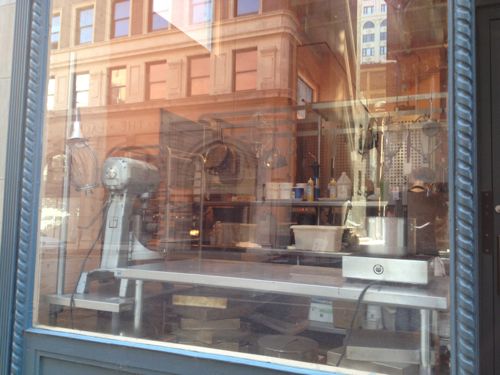 If you can't read the image above, here's the gist:
Moved bakery from Baileys' Range to make room for more bathrooms.
To make fresh-baked muffins & breakfast pastries to sell at Rooster.
Plan to function as a small independent baker, selling baked goods (breads, pastries) at Rooster.
Baileys' Restaurants family includes: Baileys' Chocolate Bar, Rooster, Bridge Tap House & Wine Bar, Baileys' Range, the Fifth Wheel at 4 Hands Brewery, and later this year Small Batch:
Bailey's latest endeavor will be located in the Locust Street Automotive District (a.k.a. Automotive Row), a string of buildings along Locust Street (part of what's now known as "Midtown Alley"), former home to more than a few early-20th century automotive dealerships.

Bailey's restaurants all have different vibes and culinary leanings. His latest is no different—and may be his most ambitious.

Small Batch will hone in on "American whiskey and bourbons, both neat and blended with a library of house blended liqueurs, bitters, tonics, and tinctures," according to Bailey, whose email noted that "beer will also play a prominent role."

Playing an even more prominent role will be vegetables: look for a 100-percent vegetarian menu at Small Batch, a name that could be extrapolated to connote the increasing but still limited supply of local and heirloom produce that's in high demand in local culinary circles. (St. Louis Magazine)
I've begun going down 11th just so I can get glimpses of the workers creating inside. Much more interesting than some storefront spaces that are now someone's office.
— Steve Patterson