River Roads Mall was located in the north St. Louis County municipality of Jennings, MO:
Opened in 1962, the mall originally featured St. Louis-based Stix, Baer & Fuller as its main anchor store, as well as a Kroger supermarket and a Woolworth dime store. Walgreens operated a store in the mall as well. A 1970s expansion brought JCPenney as a second anchor store. Dillard's bought the Stix, Baer & Fuller chain in 1984, converting all Stix, Baer & Fuller stores to the Dillard's name. However, the River Roads Mall store was closed not long afterward in 1986 at the end of the lease. JCPenney converted its store to a JCPenney outlet in 1984. Woolworth closed the River Roads location (along with locations at West County Mall and in South St. Louis City) in early 1991 during one of the chain's earliest rounds of store closures. By the early 1990s, the mall was briefly renamed St. Louis Consumer Center. (Wikipedia)
Two decades after opening it was already in decline. The surrounding residential neighborhoods remain a decent place to grow up.
I love that sidewalks were provided, those didn't exist in the 1960s subdivision where I grew up, but they're meaningless because the sidewalks didn't lead anyone to nearby retail. You see in the 1960s America thought driving everywhere was the future. Cart the kids around until they get a license then they can drive themselves.
But we know better now, right? We need to design places to accommodate multiple modes of mobility: car, bike and foot. So you'd think the few new buildings that have been constructed in the last 5-6 years on the edge of the site have improved things for area residents. Well, you may not think so but I expected to see an improvement.
Boy was I disappointed on my first visit in 6+ years.
River Roads Manor was a Pyramid Properties project, completed prior to the collapse of the company on April 18, 2008 (see Five Years Since Pyramid Properties Ceased Operations). The McDonald's & Neighbors Credit Union were started.  So John Steffen's Pyramid Properties is to blame for not raising the bar in this area.
I just hope  Stacy Hastie of Environmental Operations, the entity that now owns the mall site, will take pedestrian access into consideration in the future. I also hope Jennings will realize their residents do walk places and that new construction should include provisions for them as well as for motorists.
Some of you will say nobody walks, everyone drives. Why then is the area serviced by MetroBus is everyone drives?  All we have to do is take a look at Google Street View to spot pedestrians.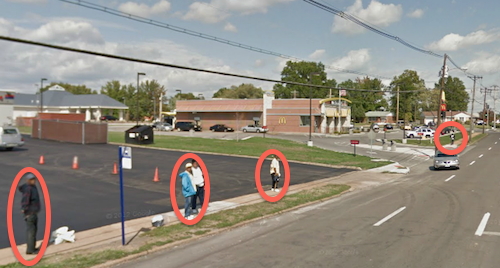 Massive efforts go into accommodating motorists, from municipal codes to vast amounts of paving and land. I just want a pedestrian connection to adjacent streets, I think that's fair.
— Steve Patterson