Last year's redistricting meant I was now in the 5th ward, rather than the 6th. As such my polling place for voting changed from the senior apartment building on Olive west of Jefferson to Patrick Henry Elementary on North 10th St.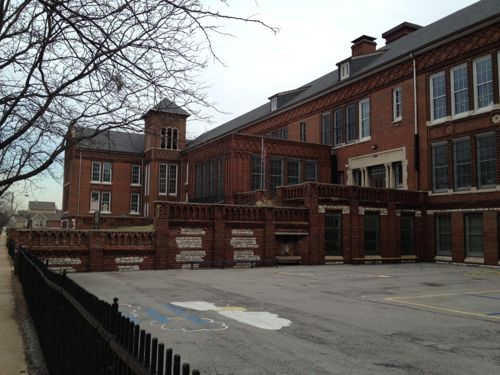 It's official name is now Patrick Henry Downtown Academy:
Nestled in the heart of downtown St. Louis, Patrick Henry Downtown Academy, located at 1220 N. 10th Street, offers a tuition-free world-class urban educational experience for children grades Pre-K-6th. We are beginning the first phase in the implementation of a GREEN School Model. We will emphasize ecological sustainability, environmental health, nutrition, personal responsibility, leadership and a comprehensive, high-quality academic program.

Patrick Henry Downtown Academy will serve as a unique springboard for students who will be at the forefront of the industries and disciplines of the 21st Century. There will be an emphasis on the environmental sciences, energy alternatives and conservation, recycling, organic gardening and the food sciences, and the emerging "green" economy, students will focus on developing the math, science, writing and "hands-on" skills that will make them successful leaders to make a difference in improving the environment for humanity. Our goal is to be the first urban GREEN Model Pilot School in the country! (Saint Louis Public Schools).
The Henry school is one of many designed by architect William B. Ittner (Landmarks Association, Wikipedia). Voters entered through a basement entry to get to the small gym so the areas I saw weren't grand spaces designed by Ittner. They were nice and clean and students going from class to class were well behaved. School staff were clearly in charge of the students. Those working the polls were helpful.
Last November I voted absentee but I'm glad I went in person on Tuesday, even though I had to walk down numerous steps. The area to the east was the Cochran Gardens high-rise public housing projects. Cochran has been replaced by Cambridge Heights, a mixed income neighborhood. Now that construction is nearly complete I'll be visiting and posting about the changes, including pictures of the high-rise buildings before they were razed.
– Steve Patterson