College campuses often reflect their location: rural, suburban or urban. Although Saint Louis University is in an urban location, it is doing a great job of destroying all aspects of urban life.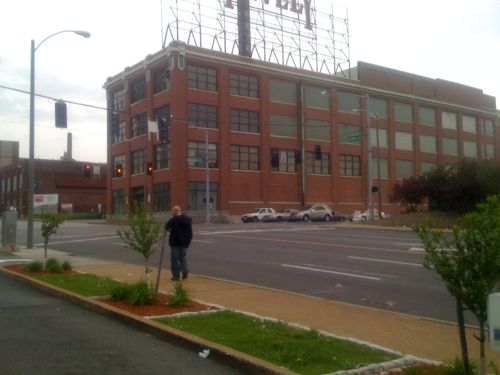 Last week the majority of readers that voted in the poll do not want this to continue:
Q: Should the St. Louis Preservation Board allow SLU to raze the former Pevely Dairy building at Grand & Chouteau?

No 134 [66.34%]
Yes 43 [21.29%]
Maybe 14 [6.93%]
Other: 9 [4.46%]
Unsure/No Opinion 2 [0.99%]
The 43 "Yes" answers must be from those who think they have a rational look at life.
The reality is each and every time an urban building is replaced with an anti-urban building set behind a green lawn the environment is denigrated, making revitalization that much harder. Wealthy institutions know this will help them but more land, something they couldn't do if areas thrived with private investment.
Here are the nine other answers provided by readers:
Not the main structure.
Hell no! Apparently SLU thinks its interests are parallel to ours. WRONG!
only if they replace it with a huge fountain or better yet museum of fountains
Yes, SLU doesn't own enough vacant land for this project.
No, there's a shortage of university housing, build reasonably price apts
Need to see post-demo land use plans before final determination
SLU has a Center for Sustainability with no real estate–rehab Pevely for that
No, they should renovate it and add on another building if needed
If it can't be rehabbed
From the nomination (PDF) to the National Register of Historic Places in 2009:
The Pevely Dairy Company Plant sits on an approximately eight-acre site in the Midtown Neighborhood of St. Louis on the west side of South Grand Boulevard between Chouteau and Hickory Avenues. Constructed between 1915 and 1945, the Pevely Dairy Company Plant was designed as the headquarters for the growing company; it remained in service as a dairy until November 2008. It is comprised of three buildings, a smokestack, and two parking lots. The 1915 four-story, red brick office building is located at 1001 South Grand Boulevard. It features a three-bay façade with large display windows in the first level, and retains the original wood door and pedimented entrance surround. A terra cotta cornice with colored tile designs ornaments the flat roofline. Many of the original wood industrial windows have also been retained on this building, as well as the glazed brick walls and floors and intricate woodwork. The 1916 milk plant sits behind the office building at 3626 Chouteau Avenue. This three-story brick and concrete industrial building had additions in 1943, 1945, 1975 and 1997. Featuring metal hopper windows, three loading docks, two metal coolers and two steam tanks, the milk plant's architecture is primarily functional rather than artistic. The interior retains its glazed brick walls and floors, as well as large, open storage rooms that include concrete mushroom columns. A 1928 garage is located south of the milk plant at 1101 Motard Avenue. This brick, arch-roofed structure retains original glazed glass metal windows, with sliding metal doors and stepped parapet walls on the east and west elevations. The interior consists of an open parking area with a concrete floor. Originally connected to a boiler and powerhouse, the 1943 smokestack now sits across a parking lot from the office building. The brick structure includes a glazed brick design spelling out the Pevely name. The adjacent parking lot and a lot between the milk plant and garage have historically served as open parking and loading space, and are included in the boundary. Though three of the Pevely structures have burned since the period of significance, the factory as a whole retains the industrial structures primarily associated with the company. These buildings are in good condition and continue to reflect their industrial significance.
The issue is said to be on the November 28th Preservation Board agenda, which isn't available yet. I'm glad to see Mary "One" Johnson is no longer on the board, she consistently voted in favor of demolitions.
Saint Louis University must show the structure(s) cannot be reused — not necessarily for their intended purpose  but for any reasonable use. We'll see how they try to spin this at the meeting.
– Steve Patterson