This is my seventh year writing on Dr. Martin Luther King Day. Â Every year, except 2008 I have looked at the St. Louis road named Dr. Martin Luther King Drive, in 2008 I looked at the issue of race.
Here are links to each of the prior posts:
Today we will start at Tucker (12th) and work our way West.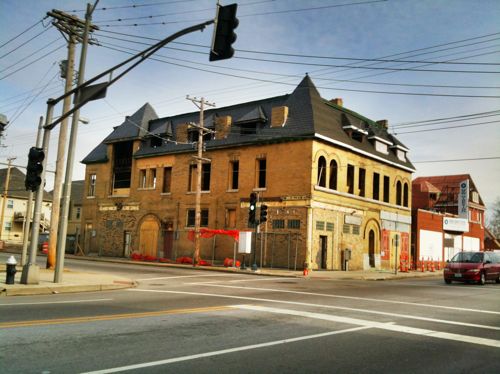 The two buildings above are part of the Dick Gregory Place project.  This building is the NE corner of Dr. Martin Luther King Dr. and Marcus Ave.
The back of the above building. located just west of Union, is nearly gone.  I don't expect to see this building next year, but I've thought that the last couple of years.
From Multi-Family Housing News this past October:
Construction has started on the Arlington Grove residential redevelopment project in north St. Louis. When complete it will include 112 mixed-income rental units in garden apartments, townhouse and semi-detached housing, along with a new mixed-use building and rehabilitation of the historic Arlington Elementary School. All together, the redevelopment will total 162,000 square feet of residential space and 5,000 square feet of commercial space.

The school renovation will include 21 apartments. The rest of the Arlington Grove's residential space will be 91 new-construction townhomes and garden apartments. All of the units are designed to meet mandatory Enterprise Green Communities (EGC) criteria as required by the Capital Fund Recovery Competition (CFRC) grant, a stimulus-related grant awarded by the U.S. Department of Housing and Urban Development that helped pay for the $41 million development. (full story)

Foundation work on the new construction on the placement looks good from an urban perspective. I will report more on this later this year as well as on Martin Luther King Day 2012.
I say it every year but it is going to take a major transportation infrastructure project (modern streetcar or even a BRT line) to make MLK Dr a desirable enough street to bring back the middle class.
Peace!
– Steve Patterson