This morning I'm meeting a friend at the airport so we can catch up on the ride to his downtown hotel. Sure, he could take a cab or ahotel shuttle or I could drive out there to get him, but why?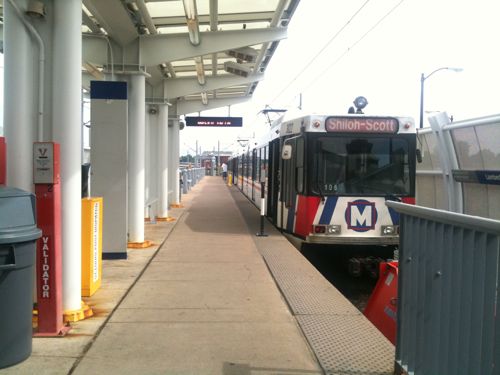 Our light rail connection to the airport is outstanding. We've enjoyed the connection since 1993. When I flew to Seattle in 2009 their airport light rail wasn't yet complete.   Flying into LaGuardia Airport in 2005 I took a bus into Manhattan, NYC's excellent rail system didn't reach the airport.
No doubt the airport connection helped garner so many favorable responses in the poll last week, Poll: Was MetroLink a Good Investment?:
Q:Â MetroLink light rail opened 18 years ago, was it a good investment?

Yes, it is an important part of our region's transportation system. 180 [79.3%]
Other answer… 19 [8.37%]
No, likely cost too much given the ridership 16 [7.05%]
Possibly, need data to know 10 [4.41%]
unsure/no opinion 2 [0.88%]
Here are the numerous other answers:
If it went faster I would easily say YES. Right now it is a VERY "nice to have"
Yes, although we need more lines for it to be truly effective.
Good starter line but not designed to take advantage of STL's Urban Form
Yes, but it needs more lines to make it fully functional
No, because it's taking away from the bus system.
It's a good start, we need a north south line in high density residential nabes
It's a needed part of trans. system, but need data to know if good investment
Yes, but it needs to be expanded to MidAmerica to grasp the airport's potential.
ghetto link
Good investment, but really need to encourage TODs to maximize investment return
Overall yes but NIMBYs have strongly compromised its potential and overall worth
Yes, but the subsequent failures have hurt: lack of extension down 40, etc.
a good investment subsequently wasted by failure to expand to critical mass
It would have been but not as it stands.
No. It is too limited to be useful.
Only if they build more lines
Yes, but we need to do better.
yes, but it still needs improvement in service hours and number of stops
Without turnstiles, we have no idea how much revenue we are losing.
Here are some of my thoughts:
Light rail is one of several types of fixed rail transit, others include heavy rail and streetcars. Each has it's place. Light rail into Illinois and to the airport was a good investment because we had the right-of-way, bridge, and tunnels to support the construction.
The extension further into Illinois was also a good investment as the distance is substantial, getting many cars off the roadways with minimal infrastructure since the line used existing at-grade right-of-way.
The extension to Shrewsbury, however, was not a good investment. Expensive tunnels and flyover bridges drove up costs enormously. The distance covered is not that great.
The lack of turnstiles made sense in the late 80s when the original line was being planned, ridership was unknown and the additional costs to construct a closed system would have been too much. I don't think much revenue is lost by those who don't pay, but not having a reloadable card option (yet) is a huge disadvantage.
Light rail is typically run in it's own right-of-way so therefore it isn't where you need it to be – in the street next to your destination.
Light rail doesn't belong in street right-of-ways, that's what a streetcar is for.
I see very limited need for additional light rail in the region. Â An extension into Madison County Illinois would be nice. Â Connecting north county via existing right-of-way from Clayton or airport area makes sense too. Â Extending into south county from Shrewsbury also makes sense.
I oppose street running light rail going through north & south St. Louis to get county riders downtown.
We will never again have a streetcar system serving all neighborhoods in the city and light rail only serves a very small portion of people. Â Bus service, therefore, is the main mode of transit.
Light rail distracts Metro and funding from bus service, which has been getting the short end of the stick for too long.
– Steve Patterson