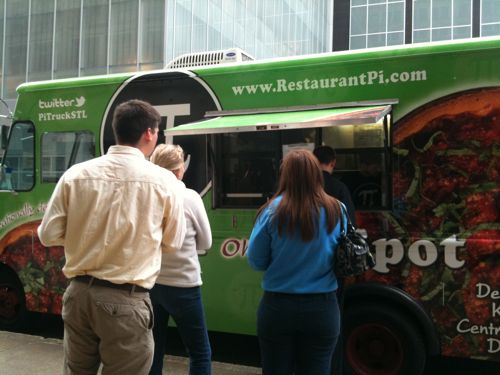 Saw this bit of information last week about a new regulation regarding food trucks in the St. Louis suburb of Maryland Heights:
The code requires rolling merchants to operate within health regulations and have a trash receptacle available. They may operate only on occupied properties, with the owner's permission, and only while the primary establishment is operating or for 12 hours, whichever is less. Also, they may not establish a stand within 25 feet of a public road. (STLtoday.com)
Unlike urban places, I don't think Maryland Heights has any on-street parking, except maybe in residential neighborhoods. Still, food trucks are booming in St. Louis:
The food truck trend has hit St. Louis with a bang, with more trucks than ever now trolling the streets to serve up everything from pizza to tacos to cupcakes to hungry St. Louisans willing to track down their mobile meals on Facebook and Twitter. (Sauce Magazine)
Cities, including the City of St. Louis, are grappling with how to regulate food trucks and other food vendors. Health regulations seem a no-brainer but the issue of where they are or are not allowed to vend is the big issue.
Officials may long for the day when the most mobile food vendors just had a stainless steel hot dog cart.
There are 190 food-service establishments in downtown St. Louis, and some restaurateurs fear being pushed out of business. "Inherently, it starts out being unlevel, because of the cost to operate a food service in a truck versus an established lease," said Maggie Campbell, president and CEO of Partnership for Downtown St. Louis. While food trucks reflect the vitality of the neighborhood, Campbell wants to make sure their presence doesn't end up hurting brick-and-mortar restaurants. "The most ideal outcome would be for food trucks to enjoy being downtown and have a strong enough customer base to invest in a storefront," she said.
So there you go, regulation isn't about public safety, it's about protecting other businesses. Pi has two locations in the City of St. Louis and will open a downtown location at 6th & Washington in the Mercantile Exchange bldg (formerly known St. Louis Centre).
I personally love street food from carts and trucks. Â I've purchased food from all four trucks pictured in this post, but I understand the need to have some regulations in place so it's not a free for all (like valet parking).
I recently started a Street Food STL list on Twitter to help track the growing number of trucks and other mobile food vendors. Â The newest truck on Twitter is literally the oldest:
The Fire and Ice Cream Truck beat the food truck trend by a few years, quietly selling locally made ice cream from a rehabbed vintage fire truck along the riverfront. But now the truck has joined the fray, moving to a semi-permanent location on Tenth [Ninth!] Street between Market and Chestnut, in the middle of Citygarden (Ninth and Market streets; 314-802-9571 or citygardenstl.org). And it couldn't be more perfect. (Riverfront Times)
The poll this week seeks to find out reader's thoughts on efforts to regulate mobile food vendors. The poll is in the upper right corner of the blog, results will be published Wednesday June 29th.
– Steve Patterson