Historically cities have  been incubators for entrepreneurs, bringing people together to exchange their goods. Many well-known early St. Louisans became wealthy selling goods/services to the growing city and country. Then population shifted to the suburbs, manufacturing jobs went oversees, and big corporations took the place of mom & pop businesses, online ordering with overnight delivery made going to stores quaint, etc.
May Department Stores, founded in 1877, moved to St. Louis from Denver in 1905, operated out of the upper floors of the Railway Exchange Building — over Famous-Barr. When May was acquired by Cincinnati-based Federated Department Stores in 2005, the Famous-Barr became a Macy's and the number of employees in the upstairs offices shrank considerably. The Railway Exchange Building was sold to a developer, Macy's consolidated to 3 floors from 7 or 8, but it is closing next month. Knowing all this you might think nothing is happening in the Railway Exchange — but you'd be very wrong!
The 12th & 13th floors are the T-REx business incubator.
T-REx is a coworking space and technology incubator located in the heart of downtown St. Louis, Missouri. We've taken 60,000 sq/ft in the historic Railway Exchange Building and converted it into a hub for the St. Louis startup scene — now home to a growing community of entrepreneurs, developers, designers, mentors, educators and more.
T-REx now has 70+ business, with more coming.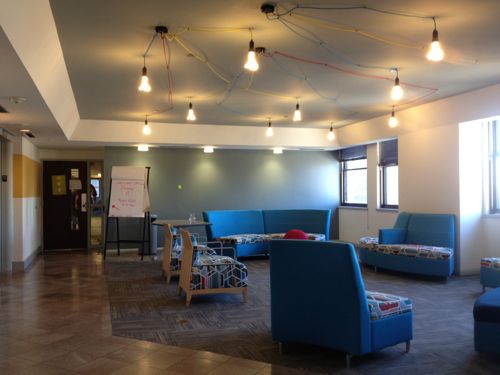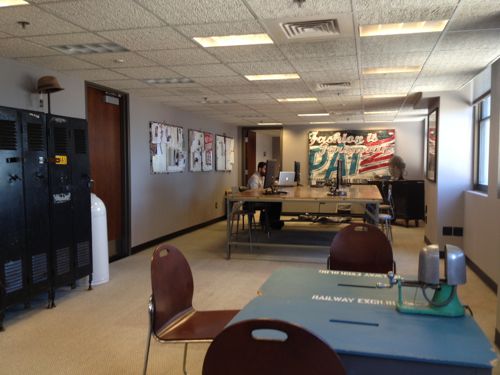 Arch Grants seeks to create a more robust startup culture and infrastructure in St. Louis. To increase employment growth and establish St. Louis as a place where entrepreneurs want to start and grow their businesses, Arch Grants offers startups funding in the form of grants and supports the startups as they remain or transition to downtown St. Louis. The Arch Grants Business Plan Competition helps to shape the image of St. Louis among aspiring entrepreneurs and others looking to have a formative role in building a new entrepreneurial climate in St. Louis.

Through the Business Plan Competition, Arch Grants selects promising startups to receive $50,000. Typically, taking venture capital forces an aspiring entrepreneur to sacrifice a significant stake in their company in exchange for funds. This process is often limited to ventures with access to the startup hotbeds like Silicon Valley, New York, and Boston. Arch Grants provides entrepreneurs with the opportunity to start a business with non-dilutive capital. In addition, Arch Grants supports the growth of winning companies by providing access to business networking and mentoring, free legal and accounting services, collaboration with local universities, and discounts on housing and affordable office space. After receiving an initial Arch Grant, startups have the opportunity to secure a second round of up to $100,000 in funding along with direct access to St. Louis-based angel investors.

To provide winners with the best chance of success, Arch Grants partners with comparable economic development endeavors in St. Louis that currently support business growth in the city including Innovation Venture Mentoring Service, St. Louis Regional Chamber and Growth Association, Regional Business Council, Washington University, St. Louis University, University of Missouri at St. Louis, Webster University, and Harris Stowe University. (Arch Grants)
I met a couple of recent Arch Grant winners during my visit to T-REx last week; Andrew Couch and Gilda Campos moved their startup from San Diego to St. Louis after receiving a grant.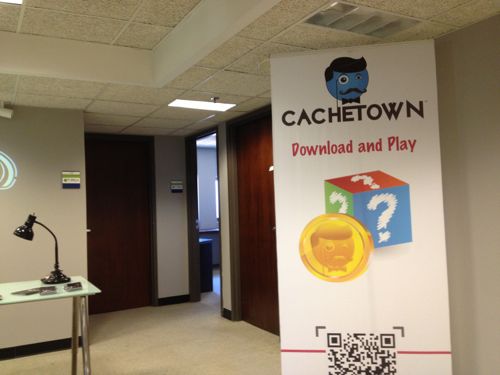 Couch & Campos rented a nearby apartment and walk to work, they don't have a car. They said the decision to relocate was easy because of the enthusiasm of St. Louis to attract young businesses, they'd never have such an opportunity with venture capitalists on the West Coast.
Apparently other cities have spent big bucks to set up incubators of this size, but here they just had to repaint.  Some of these companies will fail, some will stagnate, but others will prosper. Let's just hope the latter stay in St. Louis as they expand.
— Steve Patterson