I've working on my bucket list in the last two years living with stage IV kidney cancer. Right after Memorial Day I was able to visit Milwaukee, my very first time in Wisconsin. I'm also working on items closer to home that I can safely do during a pandemic. To help me I pulled the 2013 book 100 Things To Do In Saint Louis Before You Die off my bookshelf.  One of several books written or co-authored by my longtime friend Amanda Doyle.
Well, I don't see myself being able to physically sled down Art Hill, or use a paddle boat in Forest Park. Hmm, visit Cahokia Mounds? I've always wanted to see it, it's likely the only additional  World Heritage site I'll be able to visit — I've been to Independence Hall & many Frank Lloyd Wright buildings, including Fallingwater.
Embarrassingly in my 31+ years living in St. Louis I must admit I've never once visited Cahokia Mounds, a World Heritage site only a 15-minute drive into Illinois from St. Louis. Like so many places I thought I could go  &  things I could do in the future, until I became disabled a month before my 41st birthday. I had lived here less than 18 years before I had a massive stroke, meaning I couldn't walk around the large Cahokia Mounds site. My power wheelchair allows me to "walk" around places like the Missouri Botanical Gardens.
In case you're unfamiliar with Cahokia Mounds:
The remains of the most sophisticated prehistoric native civilization north of Mexico are preserved at Cahokia Mounds State Historic Site. Within the 2,200-acre tract, located a few miles west of Collinsville, Illinois, lie the archaeological remnants of the central section of the ancient settlement that is today known as Cahokia. (Cahokia Mounds Museum Society)
The fastest way there is for me and my husband to just drive there. But, I couldn't see much because I can't walk far. I also have a manual wheelchair we can put in the trunk, but he'd have to push me or I use my right foot and right hand to propel myself. One of us would get worn out.
I've traveled to five different states using transit and my power wheelchair so I should be able to go less than 10 miles. So I looked. Yes, I can roll 8/10 of a mile to the Convention Center MetroLink light rail station, take the train east to the Emerson Park station, and then catch the #18 Madison County bus northbound to Fairmont Ave at Collinsville Rd. Then it's just a mile west along Collinsville Rd to the entrance to Cahokia Mounds State Historic Site (map).
A mile isn't an issue at all, a week ago I rolled almost 5 miles home from Siteman Cancer Center. Yes, returning home on MetroLink would've been considerably faster but I got to see a lot of stuff along my route. I'm on disability so I'm usually not in a hurry. So what's the problem?
The problem is Collinsville Road is a high-speed (45mph) 4-lane roadway with zero pedestrian infrastructure. None. No pedestrian signals or crosswalks at the signalized intersection near the bus stop. A few businesses near the intersection have a public sidewalk but they're not connected to each other. Most of the mile distance is just a very tiny shoulder and a ditch. If I were somehow to make it I'd need to cross Collinsville Rd. Opposite the entrance to Cahokia Mounds is a pedestrian sign, but trying to cross 4 lanes of high-speed traffic is a death wish.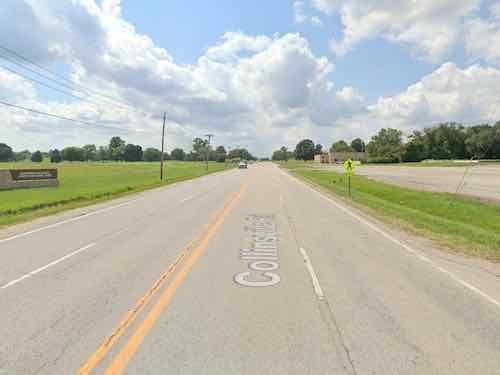 My thoughts turned to contacting someone to bug them about this. But who? Most of the north side of Collinsville Rd is in Namioki Township, Madison County. Part of the south side of Collinsville Rd & Cahokia Mounds are in Collinsville, St. Clair County. Yes, most of Collinsville is in Madison County, but this part is in St. Clair County. And finally  the the intersection of Collinsville Rd & Fairmont Ave/Black Lane is State Park Place, an unincorporated community in both Madison & St  Clair Counties. Maddening fragmentation!
I suppose an able-bodied person could navigate this last mile, but I doubt anyone would.  Back at State Park Place there's business on both sides of Collinsville Rd, including a Mexican restaurant on each side. I read somewhere a while ago that one is among the best Mexican restaurants in the Metro East.
My first task will be to contact Cahokia Mounds to see if they have any power wheelchairs/scooters for rent, their website doesn't mention accessibility at all. I'll also contact the Highway Dept at each county, though it might take state and/or federal funds to get anything built. I just want to get things…rolling.
Steve Patterson