I often spend days, weeks, or months thinking about a post before writing it. I've been thinking about today's post for over 5 years now!
It was May 2014 when we first stayed at friend's newly purchased vacation condo in Chicago's Streeterville neighborhood — across the street from Northwestern Hospital. Not a wide boulevard either, Erie Street is like most of Chicago's streets — two drive lanes and two parking lanes.
We experienced the busy sidewalks but also the internal walkway system connecting the campus' numerous buildings, complete with bridges over roadways. I immediately thought how different it felt from St. Louis' Washington University Medical Campus (WUMC)/Barnes-Jewish Hospital (BJC).
In the Fall of 2017 I had an unexpected emergency surgery and an overnight stay at BJC, I got to experience the walkway going from the Center for Advanced Medicine to Barnes. Then again the next morning going to the bus transit center. Yes, usually you don't leave hospitalization via public transit, but that's how I got there with my power wheelchair and a very broken wrist.
I've visited the Northwestern campus numerous times while visiting Chicago and I've returned to WUMC/BJC for numerous appointment and to photograph/observe the walkway.  I'm finally in a position to compare observation of the two.
First, the similarities between the two:
Were built over decades, slowly expanding.
Began life in an affluent neighborhood of gridded streets.
Comprised of generic beige buildings, parking garages.
Lots of people & cars.
Have an internal network to help people navigate from building to building indoors.
Have one hard edge (Lake Michigan in Chicago, Forest Park in St. Louis)
Given all the above similarities you'd think the two would function the same. But no, the end results are vastly different! This post will hopefully explain the differences I've observed and their impact on each campus and surrounding neighborhoods.
In short, the major differences can be reduced to:
Sidewalk level activities: Many of Northwestern's buildings, especially newer ones, have "active" ground floors — mostly restaurants.
Street grid: Northwestern didn't alter the street grid, WUMC/BJC has decimated the grid.
Let's start in St. Louis (map):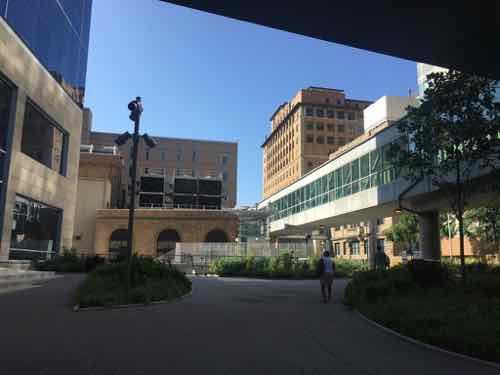 Before moving on I should note that I was very pleased with my treatment and all those who took care of me that visit and my other appointments, cataracts surgery, etc.
Okay, now Chicago (map). Starting outside.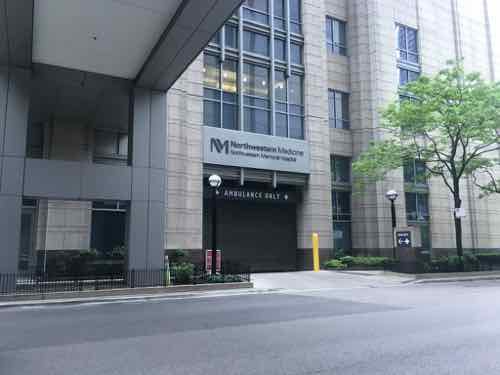 Now let's go inside their walkway system.
CONCLUSION:
Both medical campuses have good & bad buildings. While Northwestern does a far better job activating corners it is the fact they still have corners that explains why the sidewalks are so full of people. The non-medical public, like us, are able to easily get through the campus on the sidewalks or via the enclosed walkway system. Northwestern's campus isn't a monolithic fortress to go around — you can go right through it just like you would elsewhere in Chicago.
I'm firmly convinced the many closed streets within St. Louis' Washington University Medical Campus are largely responsible for the relative lack of pedestrian activity. Short of reopening the closed streets, I don't think there's anything we can do to fix the problem.
There's a lot more detail I'd hoped to include, but I knew I just had to get this post finished. I might do some followup posts.
— Steve Patterson