My grandfathers saw many new things during their lifetimes. Both were born in the 19th century, 1886 & 1899. Transportation changed dramatically during their lifetimes. With that in mind, I'd like to think the hyperloop concept can become a reality in my lifetime.
A Hyperloop is a proposed mode of passenger and/or freight transportation, first used to describe an open-source vactrain design released by a joint team from Tesla and SpaceX. Drawing heavily from Robert Goddard's vactrain, a hyperloop is a sealed tube or system of tubes through which a pod may travel free of air resistance or friction conveying people or objects at high speed while being very efficient.

Elon Musk's version of the concept, first publicly mentioned in 2012, incorporates reduced-pressure tubes in which pressurized capsules ride on air bearings driven by linear induction motors and axial compressors. (Wikipedia)
Being among the first in the world to have a hyperloop, St. Louis to Kansas City, is great for the imagination. We spent 2 nights last weekend in Kansas City, I drove all but about 45 minutes of the round trip. The idea of getting there in a half hour rather than nearly four hours is incredibly appealing. The boost to both regions, and to Columbia MO at the halfway point, would be huge.
The skeptic in me, however, takes over my brain — kicking aside the dreamer who'd go to KC just for lunch. The season 4 episode of The Simpsons called Marge Vs The Monorail keeps coming to mind.
Driving the route for hours helped me see lots of potential problems. The engineers that say, for nearly $10 billion, a St. Louis to Kansas City hyperloop is feasible likely figured a lot of this into the costs.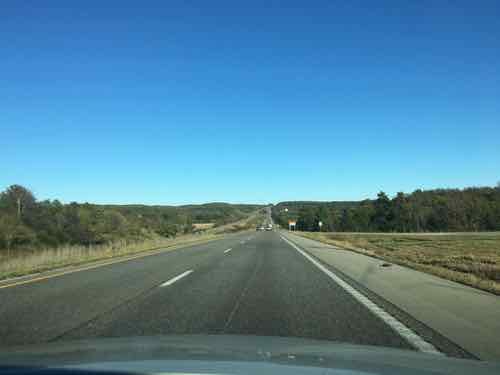 Despite the numerous obstacles, I do think it's worth keeping tabs on to see if it develops into a viable transportation option. It was in the recent news:
Saudi Arabia has pulled a planned deal with Virgin Hyperloop One after Sir Richard Branson said he would freeze ties with the kingdom until more details are known about the disappearance of the journalist Jamal Khashoggi, according to people briefed on talks between the parties. The two sides were planning to sign a deal for a new feasibility study at a ceremony during the upcoming Future Investment Initiative conference in Riyadh, the people familiar with the situation added. The deal would have focused on manufacturing, knowledge transfer and route alignments for the futuristic transport system. (Financial Times)
Another source says Virgin HyperLoop One says the project has not been cancelled. Undisputed is the fact that billionaire Sir Richard Branson resigned as chairman of Virgin Hyperloop One.
In the recent non-scientific Sunday Poll readers were split:
Q: Agree or disagree: Missouri can't afford a "HyperLoop" between St. Louis and Kansas City.
Strongly agree: 6 [25%]
Agree: 3 [12.5%]
Somewhat agree: 2 [8.33%]
Neither agree or disagree: 1 [4.17%]
Somewhat disagree: 2 [8.33%]
Disagree: 4 [16.67%]
Strongly disagree: 4 [16.67%]
Unsure/No Answer: 2 [8.33%]
The agree group totaled 45.83% while the disagree group totaled slightly less at 41.67%. Again, these are non-scientific.
If hyperloop becomes viable, being among the first in the world would bring positive attention and money to Missouri. In the meantime hopefully voters will approve Proposition D on November 6th.
— Steve Patterson