Remember back to 1994 when gambling in Missouri was limited to actual boats?
Two riverboat casinos recently opened in Missouri despite the state's ban on slot machines and many other games of chance.

The President Casino on the Admiral is permanently moored on the Mississippi River, just north of the Gateway Arch. The recently renovated riverboat, which dates from 1907, has 70,000 square feet of casino space with nearly 100 tables assigned to blackjack, poker and craps, and 150 video poker games.

Admission is $2 during the week and $5 on weekends. Boarding is allowed every two hours from 10 a.m. to midnight. Entrance is restricted to adults at least 21 years old. For information: 800-772-3647.

About 30 miles away in St. Charles, Mo., the Casino St. Charles has a 24,500-foot casino with 52 tables for blackjack and craps, and 813 video poker machines. The riverboat cruises the Missouri River for two hours, weather and water levels permitting. Otherwise, gambling is dockside at the St. Charles Riverfront Station. (Chicago Tribune)
Boats either literally cruised the river or, like the Admiral, admission wasn't allowed while it was "cruising" in place. Next came buildings with a little river water moat next to them. Eventually that was scrapped too. Now lawmakers might approve video gaming in the convenience store down the street.
Lo0k at Illinois. The following is one of many examples in Springfield IL.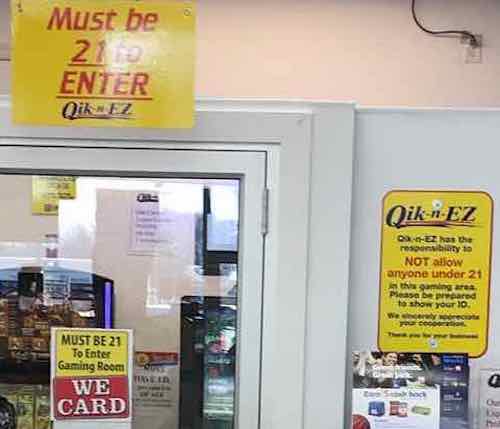 Above photos by my husband, David. This makes losing your money more convenient than in a casino.
As to the recent non-scientific Sunday Poll question — new revenue isn't necessarily a positive — it could also result in a greater reduction of casino revenue. For communities that don't receive any casino revenue, video gaming will add to their budgets. But is this new money or just money not spent/taxed elsewhere in the community?
Here are the poll results:
Q: Agree or disagree: Video gaming could help ease Missouri's tight budget
Strongly agree 2 [11.11%]
Agree 2 [11.11%]
Somewhat agree 3 [16.67%]
Neither agree or disagree 2 [11.11%]
Somewhat disagree 0 [0%]
Disagree 4 [22.22%]
Strongly disagree 4 [22.22%]
Unsure/No Answer 1 [5.56%]
The number of responses was half that of a typical week.
— Steve Patterson