Before the automobile public right-of-ways (PROW), public-owned land that connects private property, was shared by pedestrians, people on horseback, horse-drawn carriages, trollies pulled by horses, etc.  PROW in cities were becoming increasingly crowded. Many roads were unpaved, those that were in cobblestones. Waste from horses & mules made the PROW filthy.
The new automobile made the PROW even more crowded. More than a century ago, a civil engineer in his late 20s arrived in St. Louis.
Harland Bartholomew (September 14, 1889 – December 2, 1989) was an American urban planner. Although a civil engineer by training and disposition, Harland's career started just as the automobile production was about to take off, industrial development was booming and urban populations grew. The novel challenges and opportunities brought about by this new form of transport inspired the invention of new community concepts and required the development of new approaches to planning transportation in cities. These challenges called for the skills of an engineer to analyze transportation needs quantitiatively as well as those of a person passionate about urban design and social conditions. Harland was able to deliver these qualities. Starting in 1911 and continuing until 1930 Harland Bartholomew created new methodologies and new designs and concepts which made contributions that remain relevant to urban planning in North America today. This novel approach became known as comprehensive planning. His skills and experience were sought by many city planning commissions. Ultimately cities would develop their own in house technical staff to carry on with planning issues. Harland himself was the first full-time planner employed by an American city, and he remained a planner with St. Louis, Missouri for 37 years. During this period both the city of St. Louis and its surrounding areas were thriving and growing. Due to his groundbreaking work he can be described as the father of American and Canadian city planning in the age of the automobile. (Wikipedia)
Bartholomew, like his better-known contemporary, NYC's Robert Moses, believed it was necessary to destroy the city to save it from itself. Everything prior to the 20th century was wrong for the modern world of the automobile.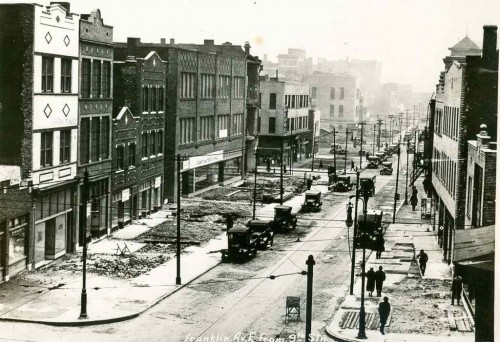 This make room for the automobile view is clear in Bartholomew's 1947 plan, from the streets & trafficways section:
Since 1916 St. Louis has expended over $40,000,000 in opening, widening, connecting, and extending the system of major streets. Much has been accomplished in converting a horse and buggy street system to automobile needs. As the total volume of traffic increases, however, certain new needs arise. An example is the desirability of grade separations at extremely heavy intersections, such as at Grand and Market and at Kingshighway and Lindell. Likewise there is a need for complete separation of grade where traffic volume is sufficiently heavy to justify the cost involved. The Federal Government, which has helped finance our splendid system of national highways, has recently revised its policies and Congress has appropriated substantial funds to aid the cities in the construction of express highways and for facilitation of traffic flows from certain selected state highways through metropolitan areas to the central business districts of large cities. Past and present experience reveals the need for four types of major streets and trafficways as follows:

Secondary Streets (4 Lanes)
Most St. Louis streets were laid out with a width of 60 feet. A considerable volume of traffic can be accommodated in a 60-foot street with a 40-foot roadway, especially if curb parking is restricted at times of heavy traffic flow. Such streets as Nebraska, Compton, and Goodfellow can pr6bably continue for many years to accommodate a considerable volume of traffic flow without widening. All local residential areas require access and must be served either by wide major streets or by these secondary streets which thereby become important integral parts of the major street plan.
Major Streets (6 Lanes)
Grand Avenue, Chippewa Street, and Easton Avenue are examples of important cross-town routes which accommo date a considerable volume of traffic including mass trans portation facilities (i.e., streetcars or buses). Their general width of 80 feet permits a 54 or 56 foot roadway to accom modate six lanes of traffic. There is need for quite a number of such routes where traffic volume is insufficient to warrantgreater width of the street except by expensive widening of the street.
Major Streets (8 Lanes)
These are the main traffic ways, as for example Gravois Avenue, Market Street, Natural Bridge Road, Lindell Boulevard and Kingshighway. They are the dominant structural elements of the street plan. Their traffic capacity is unusually high since they permit three or four lanes of moving traffic in each direction. It is impractical to provide for streets with wider roadways because of weaving and complications encountered in traffic control.
Express Highways
When traffic volume becomes so great that it cannot be accommodated even on eight lane surface highways it becomes necessary to provide for uninterrupted traffic flows through grade separations in the form of depressed roadways in wide right-of-ways or by roadway elevation. An overall right-of-way width of 200 feet is generally considered a minimum standard. This is far more costly than street widening but a limited mileage can be justified where there is sufficient traffic volume.
In today's money that's nearby a billion dollars! I'm uncertain if any city carried out the costly widening of the PROW the way St. Louis did. Based solely on my personal observations in other cities, I'd say St. Louis was the most aggressive. It's no wonder that more than a quarter of those of voted in the recent non-scientific Sunday Poll have a problem with road diets.
Q: Agree or disagree: 'Road Diet' projects slow traffic too much, cause congestion; should be reversed.
Strongly agree 7 [18.42%]
Agree 0 [0%]
Somewhat agree 3 [7.89%]
Neither agree or disagree 3 [7.89%]
Somewhat disagree 1 [2.63%]
Disagree 8 [21.05%]
Strongly disagree 14 [36.84%]
Unsure/No Answer 2 [5.26%]
Sadly, our road diets have been designed to appease critics, so sidewalks new still too narrow — barely wide enough for existing for traffic.  Motorists usually drive on typically wide Set. Louis area streets then encounter the "Great Streets" section for a brief period before returning to the more common Awful Streets of our region. We're too timid to do more, so it can have a ater impact on population density, pedestrian/transit rates, etc.
Bartholomew also thought St. Louis' population in 1970 would increase to 900,000 — it had dropped to 622k. Fingers are crossed we don't drop below 300k in 2020. If St. Louis wants to grow again the entire region needs to reject the many ways Bartholomew screwed up our region.
— Steve Patterson