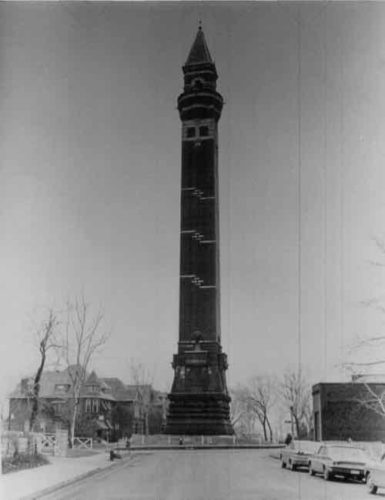 Today's post was originally supposed to be about how a historic water tower, one of our three, was saved 55 years ago. In researching, however, I found the truth was a little differing.
A few years ago the STL250 group posted a daily tidbit — I saved those which thought might be of interest here.
This Day in St. Louis History, January 27, 1962:
Salvation for the Bissell Street Water Tower

When news was released that the city had decided to tear down the dilapidated Bissell Street Water Tower at Blair and Bissell Street in North St. Louis, protests came from every direction. The tower had been losing bricks from its face due to water infiltration and freezing, but people demanded the structure be saved. Thanks to a matching grant from the U.S. Department of the Interior and the realization that tearing it down would be just as expensive, the tower was saved and restored. The Bissell Street Water Tower was constructed in 1885 to control surges of water pressure along with its older adjacent neighbor, the Grand Avenue Water Tower, shaped like a giant Corinthian column. Less than ten Victorian-era water towers remain in the United States, and three are in St. Louis.
Their post has been deleted from Facebook. So it was saved on a Saturday in 1962 — great
From the city's page on the water tower:
Bissell Street Water Tower – City Landmark #12

Built in 1885, the Bissell Street Water Tower, also called the "Red" Water Tower, was designed by William S. Eames in the form of a Moorish Minaret.  The tower stands 206 feet high and is located at the intersection of Blair Avenue and Bissell Street in the Hyde Park City Historic District.

There are nine doorways leading into a space containing an iron standpipe and spiral staircase. At the top is a look-out platform. The tower was renovated in 1913.  There was an attempt to raze the tower in 1958, but luckily it was halted by Donald Gunn, the President of the Board of Aldermen.  The Red Tower was restored once again in the 1960s and designated a City Landmark in 1966..  It was placed on the National Register of Historic Places in 1970.
So it was saved from demolition in 1962, restored and listed on the National Register. Not quite.
From the nomination to the register completed on April 8, 1970:
No material alterations have been made on the structure since its construction and its appearance remains essentially the same as when it was completed. The tower was taken out of use  June 8, 1913 when new pumping engines rendered both it and its companion, the Grand Avenue Water Tower, obsolete. It has received no substantive maintenance since that date and has fallen into such a state of disrepair that it has been barricaded since 1965 to protect people from falling bricks. Because it has been deemed a danger to public safety, it is now threatened with imminent demolition.

This description of the physical appearance of the building is based on the data included in a field report by Edward A. Ruesing written, on February 26, 1970. The report is filed at the central office of the Missouri State Park Board, P.O. Box 1?6, Jefferson Building, Jefferson City, Misoouri 65101.
No doubt something happened 55 years ago today, but it was just part of many steps taken to save it from demolition. I haven't been up there since December 2011 — not sure of the current condition. Would be nice to see the Compton Hill Water Tower & Park Preservation Society expand to cover all three of our water towers or help form an organization to help the two north side towers.
It is located at the intersection of Bissell St & Blair Ave.
— Steve Pattetrson