The 6-story building at Delmar & Euclid was known for decades as the Euclid Plaza Building. It was begun in 1910 as the General Van & Storage.  We know the building as 625 N. Euclid Ave, but General Van & Storage used 4908 Delmar Blvd. as their address.
In the early 1980s the building was redeveloped into office space by the now-defunct non-profit Union-Sarah Union-Sarah Redevelopment Corporation, headed by Nesby Moore.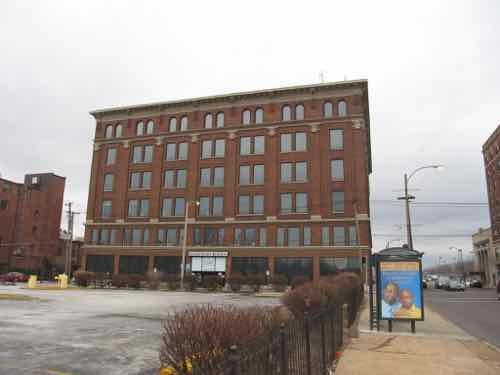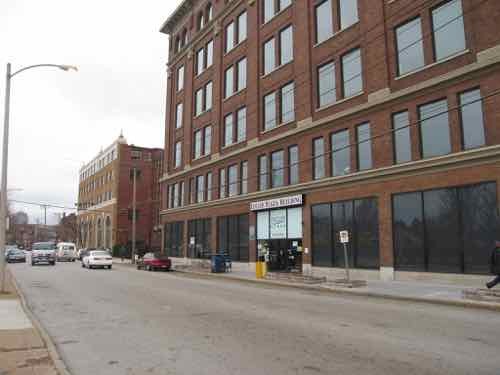 At some point after the 80s renovation the owner became Del-Mar Corporation, which owned the building until it was lost at a tax sale:
Del-Mar Development Corporation ("Prior Owner") failed to pay real property taxes on an office building it owned and the Collector of Revenue for the City of St. Louis conducted a tax sale on July 14, 1998, pursuant to the Municipal Land Reutilization Law ("MLRL"), sections 92.700 to 92.920 RSMo 2000. (casetext.com)
This building has held offices for KDHX, NAACP of St. Louis, and many others. Now, it'll be apartments:
Best known locally for its Streets of St. Charles project, a developer from Peoria, Ill., is about to begin a loft apartment project in the Central West End neighborhood in St. Louis.

Cullinan Properties bought the Euclid Plaza building at 625 North Euclid Avenue and plans to begin renovating it within weeks. A company official said Thursday the building should be ready for tenants by late next spring.

Planned are 87 studio, one- and two-bedroom apartments with granite counters, "designer" bathrooms and 12-foot ceilings, the developer said. Indoor parking, a fitness center and a rooftop deck with a clubhouse for residents are part of the project. Cullinan calls the development the Lofts@Euclid. (Post-Dispatch)
The project should be completed by Summer, see my posts on their Streets of St. Charles project here & here.
The central lobby was very dated looking, but that's all gone by now. I'm just glad to see the hideous fixed windows being replaced.
— Steve Patterson