The closing of two long-time downtown restaurants last month got a lot of media attention, so did the new restaurant that opened: Porano Pasta.
News of this restaurant broke a year ago:
Chef Gerard Craft of Niche and its affiliated restaurants will open a fast-casual concept called Porano Pasta & Gelato at the Mercantile Exchange downtown. Porano will draw on the food served at Craft's Clayton restaurant Pastaria and follow what he calls the "Chipotle format."

[snip]

Porano will be open for lunch and dinner. Diners will build their meals by choosing a base (organic semolina pasta, gluten-free pasta, farro, focaccia or lettuce), a protein (slow-roasted beef brisket, pork shoulder, pork meatballs, grilled free-range chicken, Calabrian-spiced tofu or roasted seasonal vegetables) and a sauce (pomodoro, pomodoro with smoked pork or roasted red pepper) or salad dressing.

Diners can further customize their meal with such toppings as cheese, anchovies and pickled chiles. Pastaria gelato will be available in single-serve cups (complete with wooden spoons).

Porano will take over the space at 634 Washington Avenue previously occupied by Takaya New Asian. Craft projects a summer opening date.
They didn't make their original schedule — it has only been open for a few weeks. Right now they're only open for weekday lunch, but hours will soon be extended into the evening and weekends.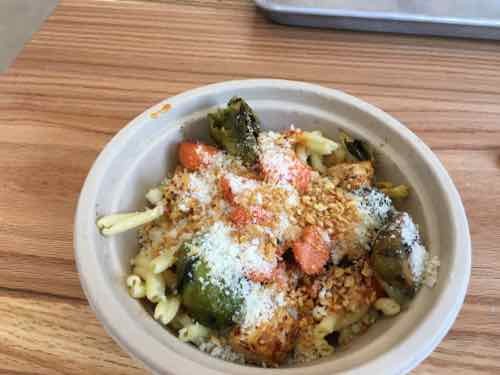 Fast casual pasta has been tried downtown before — remember 10th Street Italian or Pasta House Pronto!? Both of those were failed concepts, but Porano Pasta has nailed the concept. While $8.95 isn't cheap, the same meal on good china with metal silverware would cost twice as much and take at least twice as long.
The location is ideal, lots of daily foot traffic. With a great mix of restaurants & a theater, the MX is a happening spot. Soon the Blues Museum will open across the street.
My one suggestion is a new sign over the recycling bin that has images of what can be recycled.
— Steve Patterson