Industrial design firm fredsparks is moving downtown from S. Kingshighway, the news of their purchase of an office condo came in April:
On April 15th, 2015, design firm fredsparks acquired the last remaining commerical unit comprised of 3,823 SQ FT for $26/SQ FT.  The unit is currently in gray-box condition as one of the only unrenovated spaces in the Washington Avenue loft district.  fredsparks plans on retrofitting the space as offices for their headquarters.  

Blood & Sand, which still owns its commercial unit next door to fredsparks & The Kelley Group, continues their success as one of downtown St. Louis's best restaurant venues & favorite Washington AVE neighborhood gathering spots.  More recently Blood & Sand owners Adam Frager & TJ Vytlacil opened Death in the Afternoon at City Garden.   (King Realty Advisors)
Work in their space has been ongoing since their interior finish permit was issued in late August.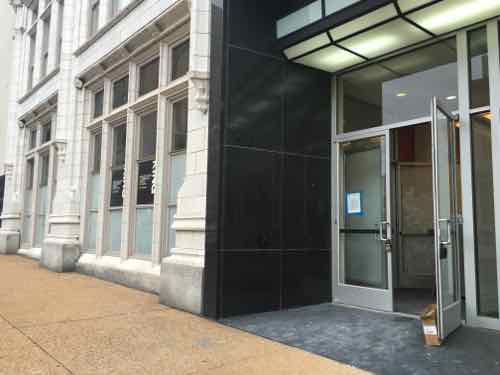 Earlier this year the firm leasing the office condo in my building a block West on Locust Street bought their space. I'm very glad to see small businesses thriving, occupying spaces, and investing in downtown. Actually, seeing smaller local firms investing anywhere in the region is a positive.
— Steve Patterson