An event ia taking place tomorrow afternoon in a once-thriving commercial district: The Wellston Loop.
"Wellston Loop Family Reunion & Exhibit" will take place on Saturday, November 21 from 1 to 3pm. A sidewalk exhibition of recent photographs and historic documents will highlight the community. The event will offer free food, drink, music and videos. The primary venue will be the former J.C. Penney Department Store (on the National Register of Historic Places) at 5930 Dr. Martin Luther King Drive, St. Louis, Missouri 63112.

We're inviting members of the surrounding community (past or present) who would like to share stories, photographs or videos of the neighborhood (Wellston Loop, Hamilton Heights and Wells/Goodfellow) from any era to submit them for inclusion and display.

Another significant building in the former shopping district is the Wellston streetcar transfer station from 1909. It is also on the National Register of Historic Places. This building has recently been awarded funding for a complete historic restoration scheduled to begin December 2015. It is the only building of its kind (streetcar station building) left standing in St. Louis.
See the Facebook event Wellston Loop Family Reunion & Exhibit for more detail.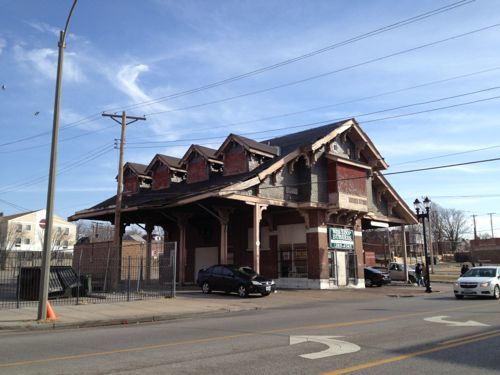 For further reading. see Reflections: In Wellston, a 'family reunion' explores faded riches, realities – and possibilities.
— Steve Patterson