Twenty-five years ago today was the premier of a film shot in St. Louis, White Palace was based on a novel by of the same name. It had only been two months since I moved from Oklahoma City to St. Louis, so I found this exciting. That said I didn't see the film in the theater — I was too poor at the time.
Max Baron (James Spader) is a 27-year-old high flying advertising executive still recovering from the death of his wife. One night he is in a bar when he meets Nora Baker (Susan Sarandon) a 43-year-old waitress with a fixation on Marilyn Monroe. The couple gradually fall in love, though age and social differences mean that the path of true love is strewn with problems. (IMDB)
Here's the trailer, novelist Glenn Savan is the diner customer.
Savan died in 2003, he was 49.
I've had this 25th anniversary in my calendar for a few years now, for a few months I've been visiting filming locations and working on this post. It's organized based on the locations, followed by information on the cast. Filming was done in late 1989.  It should be noted that the locations and routes driven don't make sense to those of us who know the city & region, but the filmmakers were looking for the best locations.
Note — this post contains spoilers.
Okay, let's get started.
#1 Max Baron's apartment — Central on the Park condominiums at 210 N. Central.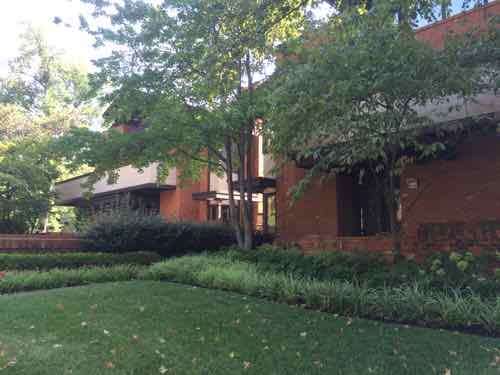 We see this building as Max Baron (James Spader) arrives home from work, his car is a Volvo 240 DL — a 1981-85 model. I was a huge Volvo fanatic in the 90s and I had trouble believing a young man who can afford such an expensive place to live would drive a 5+ year-old base model Volvo with manual windows.  A Volvo does make sense, we learn later on his late wife died in a car accident. More believable would've been a 240 GL with power windows & sunroof, or a 740/760 model. When Baron parks on the street his left brake light is out.  At home we learn Baron is changing into his tuxedo for a friend's bachelor party later that evening.
This 4-unit condo development was just being finished as filming was taking place. The architect was Lou Sauer, developed by his brother who owned Conrad Properties.  Not sure which of the 4 units was used for interior shots. In the movie it was portrayed as an apartment — with rent of $1,200/month. That's $2,188/month in today's dollars! A couple of these condos have sold for over a million dollars.
#2 White Knight Diner 1801 Olive.
The owner of the diner wanted to use the name 'White Palace' but the request to use the name was denied — so it became the 'White Knight.'  It was closed recently to repair damage after being hit by a car. When Baron arrives to pick up burgers for a bachelor party he parks on 18th Street, his left brake is suddenly working.
Ironically, Savan wanted to call his novel White Castle, but the chain refused permission. In the book, the White Palace was located at Grand & Gravois, where White Castle is located.  In 1990 the White Castle at that intersection was built up to the sidewalk, in 1996 it was replaced by the current building, which is set back.
At the bachelor party guests realize some of the burger containers are empty, so Baron returns to the White Knight to demand a refund for the missing burgers, he meets Nora Baker (Susan Sarandon) who works there.  Writer Glenn Savan has a cameo in this scene.   In a later scene we see Nora Baker leave and catch a Bi-State bus heading southbound on 18th, a bus shelter is near the diner. Currently no MetroBus route operates on 18th here, but at the time the 80 Southampton bus did go down 18th — see a post-1993 route map here. In the film, the bus turned and headed Westbound on Olive — in real life the bus continued South on 18th.
#3 Lemp Mansion 3322 Demenil Pl
In the book the bachelor party was held at the Cheshire Inn, 6300 Clayton Rd.  In the first scene at the Lemp we only see the interior, but a later scene shows the exterior. Baron's Volvo is parked on the same side of the street, facing South. For this to be the case, Demenil Pl would need to be one-way southbound, I believe it was just the way the director wanted the scene to look and how he wanted the actor to approach the vehicle.
That side of the street had parking meters, still does. The other side is residential and doesn't have meters.
#4 bar on St. Louis Ave. – 1901 St. Louis Ave.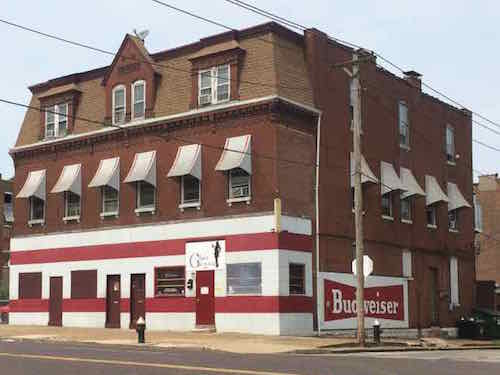 After leaving the bachelor party, Baron drives around and decides to have a drink in a working-class establishment. I lived very close to this bar from March 1991 — August 1994. It was during this time that I rented the movie on VHS tape.
It happens that Nora Baker is in the bar and remembers Baron from earlier, Baron doesn't recognize her initially. Baker flirts with Baron but after a few drinks he leaves to go home, she follows him out and asks for a ride home.  She says she lives nearby — so it's supposed to be close to — but not in — Dogtown.
#5 Nora J. Baker's house — 1521 W. Billon. Razed in 1992
When Baker is giving Baron directions he realizes she lives in the area known as Dogtown.  When they arrive he takes out her mailbox & post, the front left of his Volvo is damaged. This is movie drama because this area doesn't have mailboxes out by the street.
After seeing the film the first time I went looking for this house, but it was already gone. A couple of months ago I went to photograph the vacant lot where it was located and ended up meeting a couple of members of the Hartlage family, who've lived on this very block for generations.  Pretty soon I was sitting on the porch of the similar house, next door to the North, looking at their scrapbooks from the filming & movie.
Mr. Hartlage planned to raze it and another nearly identical house two doors North. When approached about using the house in the film, he agreed to allow it. The only cost — tear it down afterwards. It was too noisy to film the interior shots, so the interior we see in the movie was a set built a warehouse in the Central West End using interior details from the house at 1515 W. Billon.
In the movie a corner of the parking lot for the Denny's on Hampton was disguised as a used car lot. A Scullin Steel sign was added to the fence of the commercial property to the South.
I then began  wondering about the street —  West Billon — I got sidetracked into some fascinating history! West Billon is a North-South street so the name would imply it was West of Billon. Who was Billon?
Historian Frederick L. Billon was born April 28, 1801, in Philadelphia, Pennsylvania, and died October 20, 1895, in St. Louis. He came to St. Louis in the autumn of 1818, and soon became prominently identified with local affairs. He was a member of the Board of Aldermen in 1828, and thereafter was twice appointed city comptroller. In 1853, he was appointed first auditor of the Missouri Pacific Railway Company, and held that position until 1858, when he became secretary and treasurer of the company. He resigned the last-named position in 1863, and from that time until his death devoted himself to collecting historical matter pertaining to the early settlement of St. Louis and the Mississippi Valley. He was long regarded as an authority on matters of this character, and published Annals of St. Louis in its Territorial Days. He married Miss E.L. Generelly, who was a native of Philadelphia. He had four children: Louis (born 1835), Clara (born 1840), George (born 1839), and Ada (born 1854). (Missouri History Museum)
As stated above, he wrote the Annals of St. Louis in its early days under the French and Spanish dominations in 1886, he's buried at Calvary Cemetery — see his memorial on Find-A-Grave. To figure out more about the street named after him I turned to the Sanborn Maps for Missouri collection.
So Hampton Ave. used to be Billon Ave? Not exactly. In May 1918 the Board of Public Service was seeking bids "for opening and widening Billon Ave., from Oakland to Manchester Ave.; Hampton Ave., from Gravois to Billon Ave." (Source)  I interpret this to mean the 1918 bid included building a viaduct over the River Des Peres and Union Pacific's rail lines to connect Hampton Ave to Billon Ave. Presumably, it all became Hampton Ave after the work was completed.
Back to White Palace locations…
#6 Chesed Shel Emeth Cemetery 7550 Olive Blvd University City
Here we see Max Baron and his mom visiting the grave of his late wife, Jane Roth. who died two years earlier at age 25.
The land for this cemetery was acquired in 1893 while the synagogue, built in 1889, was on O'Fallon St. in North St. Louis.  It makes sense this cemetery was used, Savan's grandparents are buried here. In 1976, two years after his grandmother died, his mom Annette "Babs" Savan died at age 44.  When Glenn Savan died in 2003 he was buried here. Four years later his dad, Sidney Savan, joined them.
#7 Ad agency Laclede's Landing
Not sure the exact building that was used, but the Arch can be seen out the window. Savan's father Sidney was in advertising, but I think his firm was in Des Peres.
#8 Arch Grounds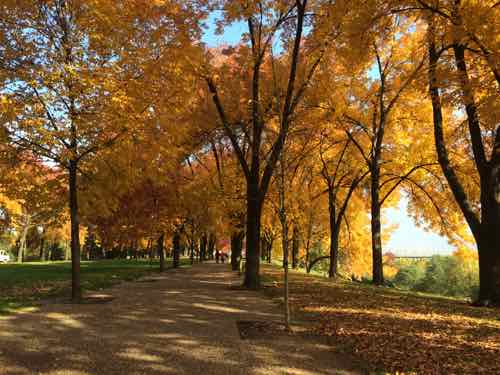 #9 Jewish wedding — location unknown. Max attends without taking Nora.
#10 Dierbergs Heritage Place — 12599 Olive Blvd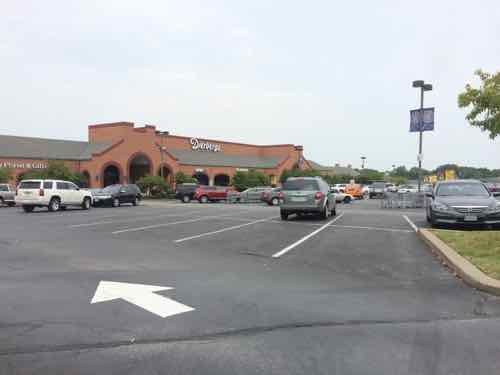 Here Max Baron & Nora Baker are grocery shopping in a very upscale store. Nora, dressed poorly to other customers, is smoking in the check-out line! Max goes to the deli to get fresh Parmigiano-Reggiano cheese, not the common grated parmesan cheese Nora had in their cart. He runs into Rachel Horowitz, the bride from the wedding scene, she invites him & his "mystery lady" to their new house for Thanksgiving. Before the cheese was added the total came to $129.14 — $235.47 in 2015 dollars.
Only interior shots of this store are shown in the movie but my chance meeting with the Harlages provided insight — one was an extra in this scene. Filming was done late at night in a not-yet-open Dierberg's location. I checked with Dierbergs who replied saying, "Thank you for your recent email.  Our Heritage store opened December 3, 1989." Again, the film was shot in late 1989 so this location is confirmed.
The interior has been remodeled since — all the tacky brass is gone — so is the movie rental area after the registers.
#11 Edith Baron's house — location unknown
Max picks up his mom for Thanksgiving at the Horowitz's, Nora is waiting the car.
#12 Horowitz residence, #2 Frontenac Place
Max's friends finally get to meet his new girl, who's "no Spring chicken."  Seated at dinner there's an argument and Nora leaves, Max & his mom also leave since they're together. The argument continues at Nora's house. In the next scene Max goes back to the White Palace to talk to Nora only to find out she has quit her job. Max races to her house to find it empty, she left him a note saying she left — it was better for both of them.
#13 Carwash — location unknown
Max is driving his Volvo through a car wash, the front is fixed which indicates a passing of time.
#14 Soloman residence — location unknown
Max attends a brunch hosted by Heidi Soloman, a socially-appropriate single woman others had suggested Max should date. Throughout the film she expressed interest in Max. She seems perfect, but Max snaps when he checks the dust buster on the wall — "There's no dust in her dustbuster!"
#15 Entering Manhattan, NY — 59th St/Queensboro Bridge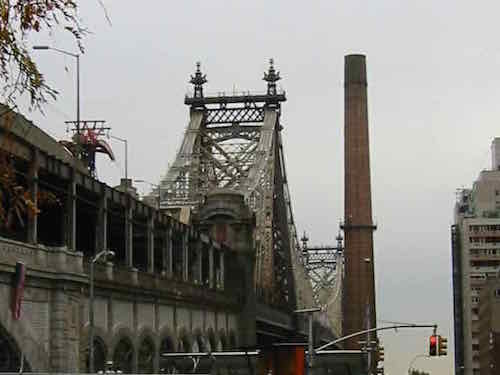 A helicopter view of a yellow taxicab crossing over the East River into Manhattan.  A brief shot insider the taxicab shows Max in the back seat as it is crossing the bridge.
In October 2001 I visited two retailers located under the bridge abutments, a now-defunct Conran's Habitat furniture store and a grocery store.
#17 Judy Baker's NYC Residence — 7 St Marks Place NY, NY
Earlier we met Nora's older sister Judy, a clairvoyant visiting from New York. Her and Max bonded in St. Louis, she gave him her card if he was ever in NYC. He arrives in front of her building in the East Village — it still looks the same, though the street trees have matured. He rings her apartment and they chat in the doorway.
#18 Nora Baker's workplace — Duff's Restaurant 392 North Euclid Avenue, St. Louis
The final scene was filmed in St. Louis, with Duff's Restaurant filling in as an East Village restaurant. A Toyota parked on the street has a front New York license plate, a couple of yellow taxicabs drive by, one has a New York plate in back. Duff's opened in 1972 when there was renewed interest in the Central West End, it closed 41 years later in June 23, 2013.  In November 2013 Cucina Pazzo opened in the Duff's space, but it closed in June of this year. The same operators reopened as Tavern Kitchen & Bar (Source).
This final scene has been criticized as cheesy, the book's ending is apparently much better. I bought a used copy of the book, but haven't had a chance to read even the end yet.
Now some tidbits about some of the
cast
.
I love this movie! Both the movie & book are available through the St. Louis Public Library. Additionally, the DVD is available via Netflix.
— Steve Patterson