Downtown St. Louis, and Downtown West to a lesser degree, has lots of one-way streets. This was done decades ago to facilitate  driving in & out. A decade ago Locust St., which had been one-way Westbound, was reverted back to two-way West of 14th St. But there are some odd little one-way remnants that need to be reexamined.   One is a very short stretch of 17th St between St. Charles St & Washington Ave.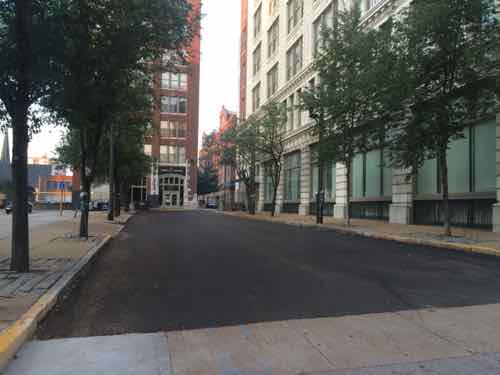 St. Charles Street, which is a glorified alley, runs parallel between Locust & Washington Ave.  — it is one-way Westbound. Yes, 17th from St. Charles to Locust is two-way. From Locust to Olive it is one-way Southbound. Confused?
Typically one-ways are done in couplets — an opposite direction street a block away. Such is the case between St. Charles & Washington.
Motorists routinely treat 17th as two-way — we should just make it official.
– Steve Patterson