One of the most frustrating things about using a wheelchair in the public right-of-way (ROW) is how many routes are 99% accessible — the 1% inaccessible part can be a bigger obstacle than you might think. Today's example shows the lack of thought put into making an entire corridor accessible — it's done piecemeal.
Saturday morning my husband and I took the bus to the Missouri Botanical Gardens, we spent a few hours there. Afterwards we decided to have lunch at OLIO  — just a short walk (map). Turning North on the East side of Tower Grove Ave I encountered a problem after crossing De Tonty St.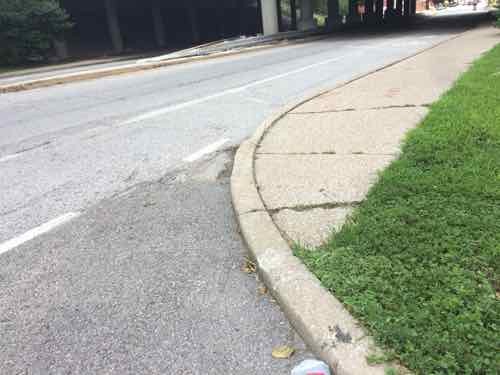 The curb was lower to the right, but not enough that I could get up onto the sidewalk. Thankfully the bike lane exists, I used that on high speed to reach the next street as quickly as possible. At Lafayette Ave I looked back South and the same problem exists on this end!
Good thing I couldn't get onto the sidewalk at the other end — I couldn't have gotten off on this end!
I crossed Lafayette Ave and got back on the sidewalk without any issues. I had no other problems after lunch, catching our bus a couple of blocks further North. So why hasn't this small section been updated in the 25 years since the Americans with Disabilities Act (ADA) was signed into law? Fragmentation is my best guess. This sidewalk runs under I-44, so MoDOT is likely responsible instead of the city.
Another possibility is gerrymandering, both ends of this sidewalk are in the 19th ward. Yes…seriously!
To be fair, most likely this was in a different ward(s) before 2011. Still, the 19th Ward is probably the worst in the city for curb ramps.
My experiences have shown over and over again that nobody is concerned about making corridors accessible from end to end. A person examining Tower Grove Ave would've caught this issue. Maybe someone has but they can't get funding from the 19th ward budget to correct it? Maybe MoDOT is aware but it too busy avoiding tolling I-70 to worry about two ramps.
The West side of Tower Grove is better — only one end is missing a ramp, at Lafayette.
— Steve Patterson