My last visit to Town & Country Crossing shopping center was in July 2008, the Whole Foods* had just opened, the Target wasn't quite open yet (current aerial via Google Maps). This was just over a month after coming home from my stroke, I drove there because I wasn't familiar with our transit system. see: Town & Country Crossing A Marked Improvement Over The Typical Strip Center in Our Region. * Full disclosure: we currently have Whole Foods shares in our portfolio.
Now I'm very familiar with our public transit system and my husband uses our shared car to get to work. So I took public transit from downtown way out to Town & Country to see the shopping center 6+ years later.
Public Transit:
From our loft Google Maps says the drive  to Town & Country Crossing, located at Clayton Rd & Woods Mill Rd., is just over 19 miles, taking 23 minutes via I-64 or 56 minutes if you avoid highways. The 57x is the MetroBus route that runs along Clayton Rd in far west county. How long does it take? From my loft it takes 68- 87 minutes, depending upon departure time and route. The 57x usually heads west from the Brentwood MetroLink station, but a few trips per day leave from the Central West End MetroBus center adjacent to the CWE MetroLink. Interestingly, catching the #10 MetroBus a block from our loft can get me to Town & Country Crossing in 77 minutes, less than some combinations involving MetroLink light rail!
The latest morning arrival weekdays is 7:34am. The next arrival? Not until 2:32pm. Clearly Metro wisely caters to worker's schedules rather than run buses throughout the day. The 57x also serves Chesterfield.
I went out three weeks ago, Monday October 6th. I took MetroLink to the Brentwood station to catch the first afternoon trip 57x westbound.
For the return trip I had three choices; one across Clayton Rd from where I got off the 57x, and two along the north edge of Town & Country Crossing. Here are the two next to my destination.
The 57x I took back to the east stopped at Brentwood MetroLink then continued east to the Central West End MetroBus Center, where I caught the #10 that dropped me off at 16th & Olive, a block from my loft. Because the #57 uses I-64 from Brentwood to Mason Rd the trip is relatively quick.
Woods Mill Plaza:
I'd never been to Woods Mill Plaza, located just east of Town & Country Crossing, so I thought I'd take a look while I was in the area. The main anchor is a Schnucks.
From property records I learned Woods Mill Plaza was built in 1986, the 2-story office building on the site was built in 1991.  If you think this site is somehow "grandfathered" you'd be very wrong:
Because barrier removal under the ADA is a continuing obligation, an accessible route may need to be provided at a later date, if a route for the general public develops or is created, and the provision of an accessible route is readily achievable. For instance, if a new bus stop is established near a site, an accessible route may have to be provided if pedestrians commonly walk between the new bus stop and the entrance to the facility. Similarly, if a sidewalk or walkway is provided between the facility and the new bus stop, an accessible route may be required. (Dept of Justice)
Moving on…
 Town & Country Crossing:
As I said at the opening, my only other visit was in July 2008. I'd been impressed with what I saw then but I wanted to return in my wheelchair to see the completed shopping center. I remain impressed but did note some problems in maintenance and design.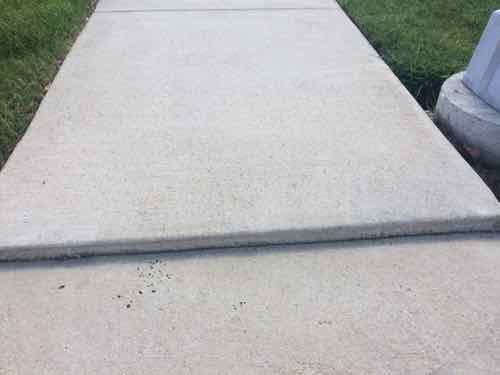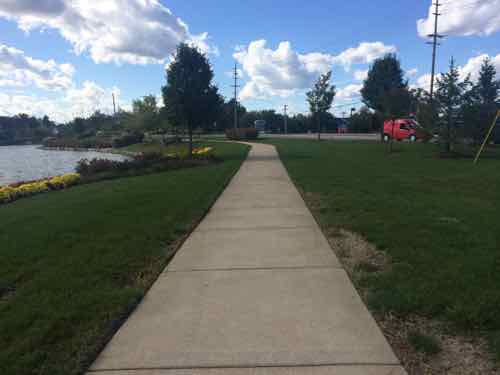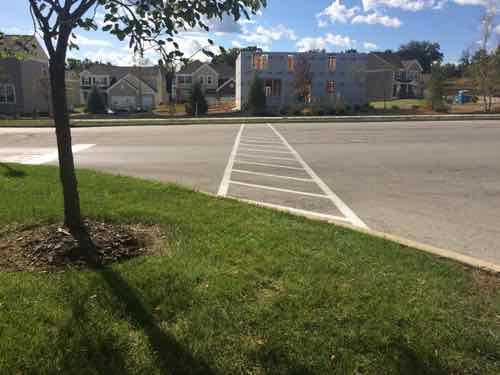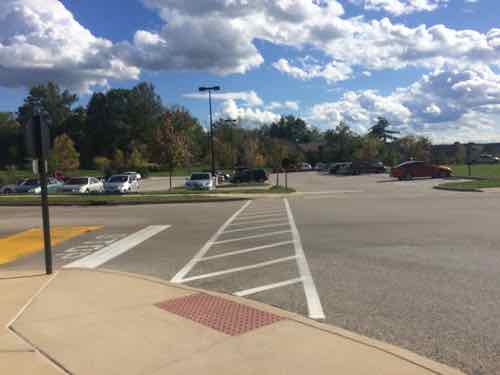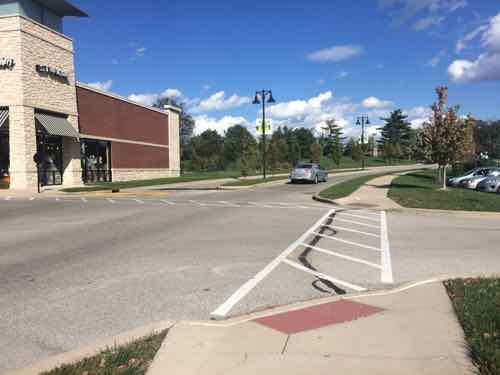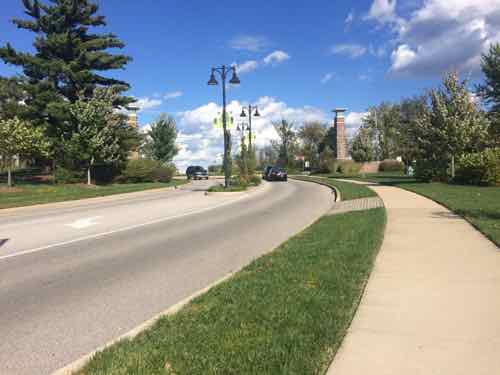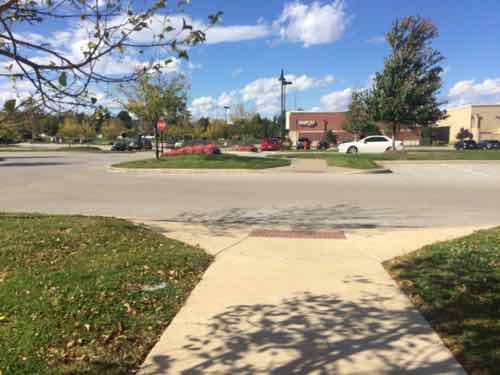 Closing Thoughts:
Town & Country Crossing isn't perfect, someone dropped the ball when the storefront building & bank was built in the northwest corner. Still, this remains the best example in the St. Louis region of a well connected shopping center. It still largely caters to motorists while being mostly ADA-compliant. They're not mutually exclusive.
— Steve Patterson