Earlier this week one local company stepped up to invest in Ferguson:
Centene Corp. has selected Ferguson, the site of unrest for more than three weeks following the police shooting of Michael Brown, as the location for a new claims processing facility, with plans to bring up to 200 jobs to the city. The unrest following Brown's death prompted Centene to select the city for the expansion. (stltoday)
This is potentially great news! I say potentially because most major call centers fit perfectly in an exurban office park; generic building sounded by massive surface parking lots, all fenced in. Ferguson needs these jobs, but it needs them in an engaged environment. Where? What would it look like? The where is quite simple: Emerson owns the perfect site on the SW corner of W. Florissant & Ferguson Ave., 9001 W. Florissant Ave.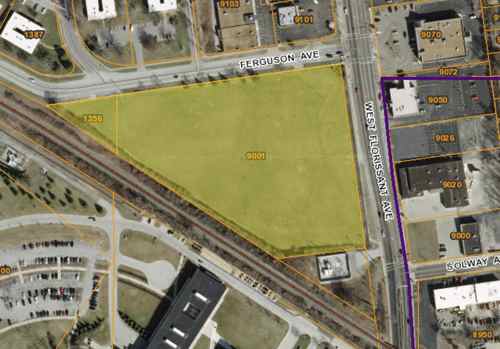 I'm not sure why Emerson bought this property, likely to raze the structure that was on the site as of 1971. Having a neighbor like Centene could be beneficial to Emerson, more workers means more lunch places. Hopefully Emerson would be willing to sell to Centene, or partner on a project to develop the site. And build what?
Ideally the building would be at least two floors, with the first floor for retail. I'd like to see a St. Louis Bread Co (aka Panera*) or Chronicle Coffee on the corner. This would provide additional jobs and more places for these 200 employees and those who work in the area to get breakfast, lunch & dinner. Nearby locally-owned places like Ferguson Burger Bar & More would also benefit. Parking can be located behind the building. If Centene doesn't need this much space the site could be planned for more than one building facing W. Florissant.  * Disclosure: I have a handful of Panera stock
If Ameren built a new substation at the back corner, an auto entrance could be created at the traffic signal at Solway Ave.
A project at this corner could be a great way to implement East West Gateway's Great Street master plan for W. Florissant!
— Steve Patterson