Last week I finally saw the documentary 'Spanish Lake'. Director Phillip Andrew Morton grew up in Spanish Lake, an unincorporated area of northeast St. Louis County. I suggest you see the film, showing at the Tivoli through July 3rd, but do so with a few grain of salt.
First, what the film got right:
St. Louis County leadership guided federal low-income housing to the area
St. Louis County has many municipalities
Nearby Blackjack was incorporated in an attempt to keep out low-income public housing
Real estate interests actively engaged in "blockbusting" and "steering"
If you take the film at face value you'll walk away falsely thinking:
All residents from Pruitt-Igoe moved to brand new apartments in Spanish Lake
Spanish Lake would be perfect today if not for poor blacks moving in and quickly ruining things
The Spanish Lake area has a very long history, famed explorers Lewis & Clark camped here at the start and end of their trip (1804-1806), residents have lived in the area since. This was a rural farming community for many years, but in the 1920s new housing subdivisions were platted. Northdale, the subdivision where filmmaker Morton first lived, was among the first tract housing planned for Spanish Lake, it was platted in March 1929. The depression and World War II meant the subdivision were nothing more than a drawing on file with St. Louis County. . Northdale was platted for a parcel on the east side of a freight railroad line, Northdale 2 was platted just two weeks later, in March 1929, for the west side of the railroad line.
Before farmers began platting home sites on their property, in the City of St. Louis property owners were busy placing deed restrictions to keep non-whites from buying. One example from 1911 went all the way to the Supreme Court in the 1940s:
On February 16, 1911, thirty out of a total of thirty-nine owners of property fronting both sides of Labadie Avenue between Taylor Avenue and Cora Avenue in the city of St. Louis, signed an agreement, which was subsequently recorded, providing in part:
". . . the said property is hereby restricted to the use and occupancy for the term of Fifty (50) years from this date, so that it shall be a condition all the time and whether recited and referred to as [sic] not in subsequent conveyances and shall attach to the land as a condition precedent to the sale of the same, that hereafter no part of said property or any
Page 334 U. S. 5
portion thereof shall be, for said term of Fifty-years, occupied by any person not of the Caucasian race, it being intended hereby to restrict the use of said property for said period of time against the occupancy as owners or tenants of any portion of said property for resident or other purpose by people of the Negro or Mongolian Race."
The entire district described in the agreement included fifty-seven parcels of land. The thirty owners who signed the agreement held title to forty-seven parcels, including the particular parcel involved in this case. At the time the agreement was signed, five of the parcels in the district were owned by Negroes. One of those had been occupied by Negro families since 1882, nearly thirty years before the restrictive agreement was executed. The trial court found that owners of seven out of nine homes on the south side of Labadie Avenue, within the restricted district and "in the immediate vicinity" of the premises in question, had failed to sign the restrictive agreement in 1911. At the time this action was brought, four of the premises were occupied by Negroes, and had been so occupied for periods ranging from twenty-three to sixty-three years. A fifth parcel had been occupied by Negroes until a year before this suit was instituted. (Shelly v. Kraemer, 1948)
The 1948 decision meant the government courts couldn't be used to enforce private restrictive covenants.  Real estate interests pounced on neighborhoods, playing up fears of whites that they'd better sell while they could. Go back up and reread the quote — black families had lived on that block for years. The big fear was going over a "tipping point" where all white neighborhoods would gain just enough non-whites to make the remaining whites leave; roughly 10%.  This has been the case for more than a century now.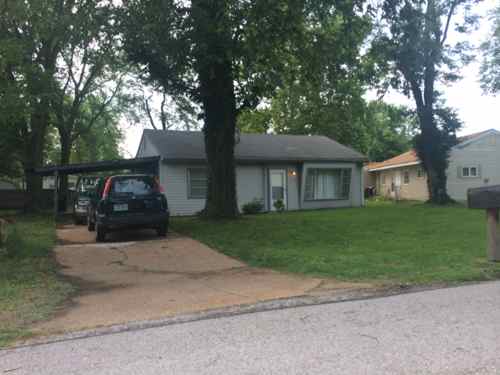 Presumably because of the Great Depression and WWII, the homes in Northdale weren't built until 1951; each virtually identical 864 square foot slab on grade boxes (no basement). A decade later Northdale 2 homes were built on the lots platted the other side of the tracks. These homes were built in brick, with a full basement, and 3 bedrooms instead of just 2. Those early Northdale homes were the very cheapest new housing available, and with government loans cheaper than renting in the then-overcrowded city.
At the same time as the strip mall and initial apartment buildings were going up so were nicer homes, such as those in the Hidden Lake Subdivision behind the Spanish Gardens Apts and the Belle Parke Plaza strip mall. These houses face a private lake, are 1,500-2,000 sq ft  with 2-car garages.
Meanwhile…
The county had adopted a master plan in 1965 which embraced the 1,700 acres which were later to become the City of Black Jack. That plan designated sixty-seven acres for multiple-family construction. In 1970, 15.2 of those acres were occupied by 321 apartments, 483.1 acres were occupied by single-family dwellings, and the rest of the land was undeveloped. (source)
Apartments were planned before Congress changed the Urban Renewal program into Model Cities (1966).   Many many factors play into people's decisions about where to live, when to move, etc… Yes, race may be a part of the decision; humans like to self-select to be with like individuals. Economics is another. For years General Motors had a factory in north city (Natural Bridge & Union), the Corvette was assembled there until 1981 when "production shifted from St. Louis, Missouri to Bowling Green, Kentucky" (Wikipedia). The entire plant was closed in 1987, but in 1983 a new plant opened in the St. Charles County town of Wentzville. The movement of blue collar jobs meant blue collar workers would follow.
Why keep living in a 30+ year old 2-bedroom 1-bath house without a basement or garage when you can get a newer & nicer home closer to work?   I'll have more on the Spanish Lake area in the coming weeks, but I do suggest you get to the Tivoli to see it.
— Steve Patterson