Local grocery store chain Schnucks made a big announcement on Monday regarding a store they acquired in their 1995 purchase of the National chain:
Next month, the region's leading grocer will have only one store in the city north of Delmar Boulevard.

The Maryland Heights-based company announced Monday it is closing its grocery at North Grand Boulevard and Kossuth Avenue, effective 6 p.m. May 10. (stltoday)
Here is the press release:
ST. LOUIS – Leaders of Schnuck Markets, Inc. today announced they will not renew the lease on the Grand and Kossuth Store (4127 N. Grand, 63107) in north St. Louis. The store will close permanently at 6 p.m. on Saturday, May 10. No jobs will be lost; all 65 teammates will be transferred to nearby Schnucks stores.

According to Schnucks President and CEO Todd Schnuck, the 28,000-square-foot store has consistently operated in the red since it was purchased as part of the 1995 National acquisition. "Closing any store is a difficult decision particularly when we have invested so substantially in the 45-year-old facility including a $200,000 Pharmacy remodel just one year ago. Nothing we've done has helped improve the store's performance."

"Store Manager Roger Hines and Co-Manager Sharon Evans lead an experienced and dedicated team. Yet despite their best efforts and strong rapport with customers, the store continues to lose money," Schnuck said. "While customers appreciate the offering we bring to the neighborhood, sales at this store will not offset needed repairs, escalating labor, utility and insurance costs."

Currently, operating a total of nine stores within the city limits (including Grand and Kossuth), Schnucks continues to demonstrate its commitment to city residents. "In this particular location, we are challenged by lack of population growth and the opportunity to attract new customers," said Schnuck. "We thank our customers and community partners for their support over the years and we will continue to look for more ways in which to deliver needed services to our customers in St. Louis City."

Schnuck says that should the landlord entice another grocer to the site, Schnucks would leave the majority of the store's fixtures in place. In the meantime, the company will start a sell down of goods prior to the May 10 close.

Pharmacy customers may continue to have their prescriptions filled through May 10. Additional information will be provided prior to the close.

Founded in St. Louis in 1939, Schnuck Markets, Inc. operates 101 stores (including Grand and Kossuth) and 95 in-store pharmacies in Missouri, Illinois, Indiana, Wisconsin and Iowa.

# # #
I'd been by this store numerous times, when it was a National I lived not far away in Old North St. Louis, but I'd never been inside. So the day after the announcement I boarded the #41 MetroBus, which stops on Kossuth right next to the store property.   Between downtown (14th & Washington) and the Schnucks a couple of passengers boarded the bus that got off at the Kossuth & Grand stop to do their grocery shopping.   Let's take a critical look at this store to see why they couldn't attract new customers.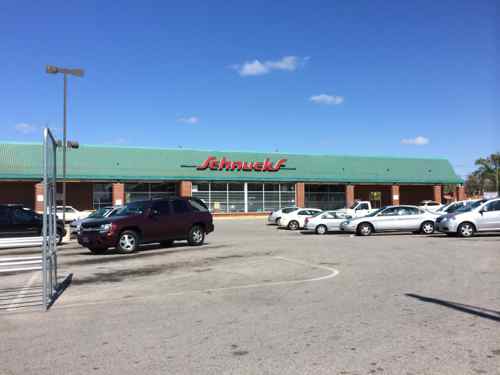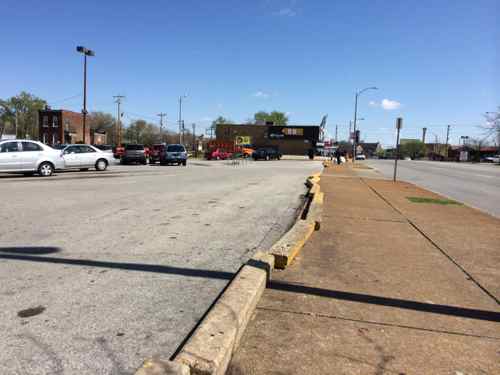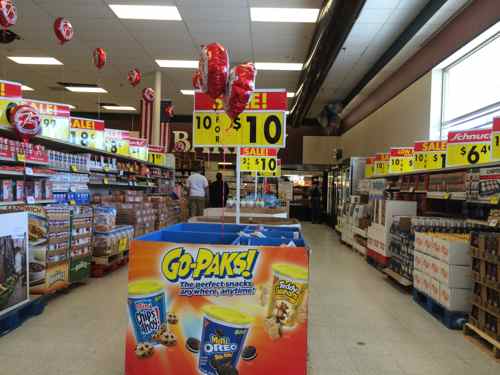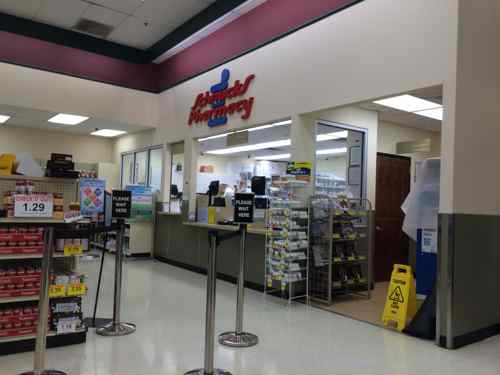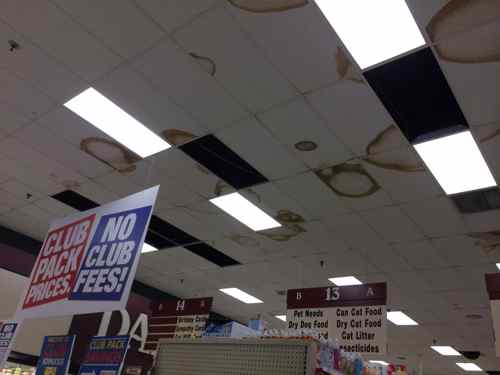 Now you've seen the store, inside and out. Think anyone goes out of their way to shop here? Nope! Anyone pass other grocery stores on the way home from work shop here? Nope! Those who live near this Schnucks likely shop elsewhere if they have a car or access to another bus route.
An ALDI is located  just the other side of Fairgrounds Park, it was built in 1999, the Schnucks was built in 1968. Those who use the #70 route can just as easily go to the much nicer ALDI. Those who drive likely pass other grocery stores on the drive home from work, so they have nicer options. I worked at Union near I-70 when the Schnucks at Union & Natural Bridge opened in 1998, I'd go by sometimes at lunch to get a salad.
The Kossuth Schnucks lacks profitable departments like salad/olive bars, deli, prepared foods, floral, etc. The store is only 28,000 sq ft, about half of most newer Schnucks, but larger than the 21,000 sq ft Culinaria store downtown that has all those departments. A ALDIs doesn't have prepared foods, floral, etc and manage with 17,000 sq ft stores, but their model is very different from Schnucks.
And hours is another big difference. The Schnucks at Union & Natural Bridge is open, like many Schnucks, from 6am-midnight every day. This allows customers to shop before or after work. The Kossuth store hours have been "Mon-Sat 7am-9pm, Sun 8am-8pm" which means many can't shop there even if they wanted to.
Is Schnucks the bad guy here? For the most part, no. Schnucks doesn't own the property, they're a tenant.
The North Grand building is owned by Marvin Holdings LLC, which lists Mishaal Taqui as its organizer. It acquired the building in the fourth quarter of 2013 and offered to do about $100,000 in roof repairs, said Taqui's spokesman, Glenn Jamboretz.

Taqui wanted a multiyear lease from the retailer and a small rent increase to offset the cost of the repairs. It had been renting the building year-to-year for about $6,100 a month, Jamboretz said. A sales incentive clause sometimes bumped that monthly payment up to around $6,500.

Schnucks said no thanks to the multiyear lease, and soon after, announced it would close. (stltoday)
The closure of this store will leave a void on the market, the Schnucks carries products the nearby ALDI simply doesn't stock. Those who get their prescriptions here will need to find another pharmacy, perhaps the Schnucks at Union & Natural Bridge. I can imagine some who are transit-dependant moving closer to another grocery store or a different bus line. The landlord will need to do lots of work to attract a quality store, even then it doesn't seem likely.
The site is ideal for a 3-5 story urban building with 100,000 sq ft of ground floor retail, much of which could be a grocery store. I'd like to see local upstart Fields Foods consider such a store.
— Steve Patterson