In a post last week called Rethinking the North Grand Corridor for Jobs, Economic Opportunity I introduced the idea of a collaborative effort to do a corridor study of North Grand from Delmar to I-70, roughly 2.5 miles.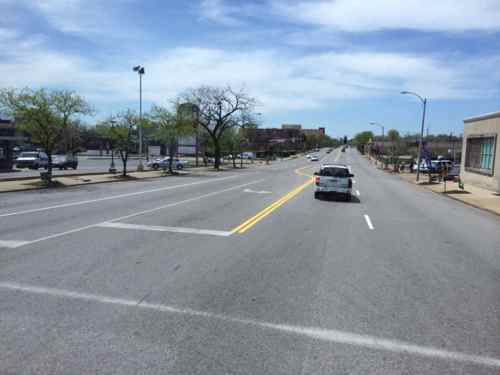 Today I'll continue this line of thought by identifying institutions/businesses/amenities on or near Grand that might be helpful in this process.
Here is the list, starting from  Delmar (lower left):
Urban League of Metropolitan St. Louis
Grand Center
Cochran VA Hospital
Clyde Miller Career Academy (SLPS)
Justine Petersen
St. Alphonsus Church
Chronicle Coffee
S. Louis Housing Authority
PNC Bank (Page)
Save-A-Lot
Vashon High School (SLPS)

CHIPS Health and Wellness Center

Lindell Bank
Herbert Hoover Boys & Girls Club
ALDI
Fairground Park (St. Louis Parks Dept)
Beaumont Career & Technical High School (SLPS)
St. Louis Public Library, Divoll Branch
PNC Bank (Grand @ N. Florissant)
Grace Hill Settlement
Grace Hill Water Tower Health Center
North Grand Water Tower (coronation column)
Bissell Water Tower
Bissell Mansion
There are likely many more places that can serve as anchors. Grand from Natural Bridge to I-70 is the The Grand Boulevard Vending District, so perhaps this can become an area where retail activity is organized, concentrated, & marketed. Maybe the 2.5 mile length is branded as one district or maybe it it broken up into segments.
It passes through four city neighborhoods:
College Hill
Fairground
JeffVanderLou
Grand Center
It primarily passes through two wards: 3 & 19. Two more wards have a few blocks each: 2 & 4. And a few more wards are very close to North Grand: 5, 18, & 21.
Metro is a big part too with eight MetroBus lines in the area:
70 (Grand)
4 (Natural Bridge)
30 (Soulard)
32 (ML King-Chouteau)
41 (Lee)
74 (Florissant)
94 (Page)
97 (Delmar)
So I've identified most of the players that could be involved in coming together to closely examine North Grand, developing a master plan, a marketing plan, etc.
b
b
b