I'll never forget the first time I stepped into an IKEA store, in August 1990. At that time IKEA only had a handful of stores in the US, I visited the 2nd located in Woodbridge VA outside Washington D.C. All were on the east coast. Since then I've shopped at five more IKEA locations, including the two Chicago-area locations: Schaumburg (opened in 1998) and Bolingbrook (opened in 2005).
Today every room in our loft includes products from IKEA:
Kitchen: Shelves, serving dishes, silverware, gadgets, bar stools, etc
Dining Room: table, art
Living Room: sofa, tv stand, wall shelves, end tables,
Office: Wall of bookshelves, lighting
Bedroom: bed, nightstands, chests, shelving, sheets, duvet, lighting
Closet: wood hangers (no wire hangers!)
Bathrooms: cart for toiletries, towels, art
We're happy with the quality of all the items except the sofa — it was the cheapest one they sold about 8 years ago and it needs to be replaced. Was a good value though.
Some of the IKEA trips I've had over the years I bought very little — even their compact flat packages are too big for the overhead bins! I can, however, recall 4-5 trips to Schaumburg/Bolingbrook, either by myself or with a friend, where we left with our vehicle packed so tight we barely fit inside to drive back to St. Louis. The time I bought the sofa we were driving a Jeep Grand Cherokee — we tied the sofa to the roof rack because the inside was full. I've also made two purchases through a local company that brings back items for a fee. Why share all this? To show I've been a customer for many years.
In March I posted that distribution was key to IKEA's midwest expansion, that we'd see a store only after the Joliet IL distribution center, announced in 2007, was actually open. When it became clear recently that IKEA was going to announce plans for a St. Louis location I wondered if I was off in my assessment so before the press conference last week I asked Joseph Roth about the long-stalled Joliet distribution center. Turns out the St. Louis location is the "tipping point" to justify the new distribution center! When the Kansas City-area IKEA opens next fall it'll be stocked from an east coast distribution center like the two Chicago area stores have been. Roth said they're not sure which will open open first: the new distribution center or the St. Louis store. If the St. Louis location opens before the distribution center, it won't be far behind.   

Last week IKEA officials announced plans to seek approval for a store at Forest Park & Vandeventer:
IKEA, the world's leading home furnishings retailer, today announced it is submitting plans to the City of St. Louis, Missouri for a store that would increase the Swedish retailer's presence in the Midwestern United States. The application marks the beginning of the governmental approval process. Until the store opens in Fall 2015, customers can shop at the closest IKEA stores: the Chicago-area IKEA Bolingbrook and IKEA Schaumburg; or online at IKEA-USA.com. Additionally, a Kansas City-area store is under construction and on track to open Fall 2014 in Merriam, KS.

Located in the heart of Midtown St. Louis, the 380,000-square-foot proposed IKEA store would be built along the northern side of Interstate-64 near the Vandeventer Avenue exit. It would sit on nearly 21 acres purchased in the Cortex Innovation District, a vibrant technology community created to commercialize the benefits of university and regional corporate research in St. Louis. One level of parking below the store and spaces accessible at-grade would provide approximately 1,250 parking spaces on-site. Store plans reflect the same unique architectural design for which IKEA stores are known worldwide. IKEA also will evaluate potential on-site power generation to complement its current U.S. renewable energy presence at nearly 90% of its U.S. locations. (IKEA)
IKEA doesn't own the land yet, that'll happen if they get approvals to proceed.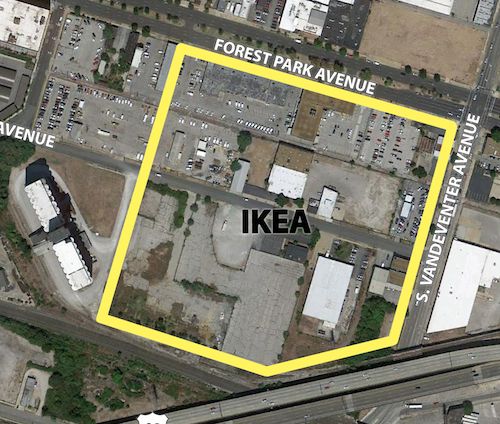 The good news:
A lackluster corner will have lots of activity
Adjacent to light rail (MetroLink) and on the #42 MetroBus route.
The store will draw customers from over 100 miles away
Tax revenue generated for the city will be substantial.
300 permanent jobs will be created
Will likely spur adjacent development consisting of more retail, hotel(s), and restaurants.
The bad news:
Most of the activity generated on Vandeventer & Forest Park will be motorists coming and going.  Traffic will be a nightmare if signals aren't well timed.
Despite being near public transit, many customers and some employees will drive.
Getting out of town visitors to stay and spend more money will be a challenge.
What will be the sales tax rate we'll have to pay? Bolingbrook IL is 8%, Schaumburg is 10%.
Many of the jobs will be low paying.
 Adjacent development, such as the proposed Midtown Station, will be low-density sprawl.
On Thursday I'll look at design issues that need to be addressed by IKEA, CORTEX, and the city.
— Steve Patterson