As a disabled person, my independence is very important. I assume no matter the disability. independence is important. Thus it isn't a surprise to me to see it mentioned in mission a statement:
St. Louis Society for the Blind and Visually Impaired enhances independence, empowers individuals and enriches the lives of people who are blind or visually impaired and their families.
Yet their website illustrates auto-centric thinking, not independence:
The Society is located at the southeast corner of Brentwood Blvd. and Manchester Road. The corner of Brentwood and Manchester is approximately 2 miles south of the Galleria shopping mall. The Society's facility is approximately 12 miles west of downtown St. Louis.

There are signs visible from all four directions at that corner indicating the "Society For The Blind Building", with all addresses (8764 – 8798) of occupants of the building below the name. The Society's entry is clearly marked above the main entrance.

There are reserved parking places in front of the main entrance, as well as handicapped parking next to the building.
Where's the information from  public transit? I often encounter blind & visually impaired riders on transit.
It would help their independence if the Society made a slight modification to provide an pedestrian access route separate from the auto driveway. It would be fairly straightforward: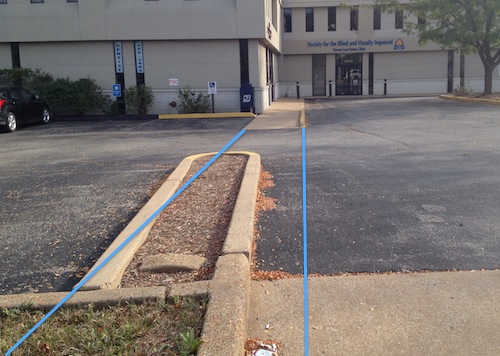 As you can see from the image above, building a pedestrian route would be a fairly simple proposition for them. I sent them a message a couple of days ago suggesting this. I'll keep you posted if anything happens.
— Steve Patterson