I've done my fare share of complaining about motorists — blocking crosswalks, nearly hitting me making right turns, parking on sidewalks, etc. Today I want to talk about bad behavior among pedestrians.
First thing I should get out of the way, I've been known to exhibit bad pedestrian behavior. Specifically, I can think of one time crossing Tucker, I didn't wait for the pedestrian signal. I started across because I knew the pattern of the lights. What I momentarily forgot was cars can legally make a right turn on red. They had the right of way but I cut them off by crossing when I did.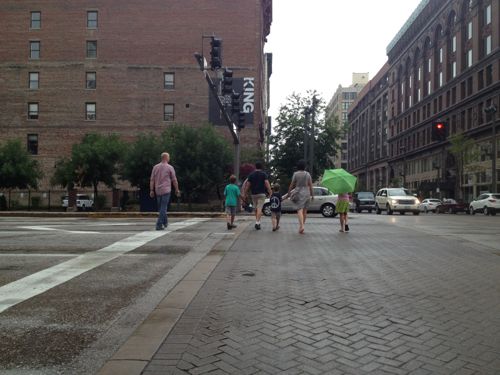 So what are some of my complaints?
People walking 2-3 abreast, expecting others to step aside so they don't have to walk single file. We have very few sidewalks downtown where pedestrians can walk 2-3 abreast while meeting others going the opposite direction. So sorry folks, I'm not going to stop and wait behind a planter or trash can so your trio can remain intact.
People come out of stores clueless that anyone else is using the sidewalk.
People in front of me walking slowly but not letting me pass them, especially when they're smoking.
We're not Manhattan, but it would still be nice to have our pedestrians be more aware of their surroundings. To be fair, I probably encounter many pedestrians who are tourists so they aren't familiar with downtown, they may not even be used to walking in a downtown context with crowded sidewalks.
— Steve Patterson