The Veterans Administration operates two facilities in the St. Louis area:
The VA St. Louis Health Care System provides inpatient and ambulatory care in medicine, surgery, psychiatry, neurology, and rehabilitation, and many other subspecialty areas. It is a two-division facility that serves veterans and their families in east central Missouri and southwestern Illinois.

The John Cochran Division, named after the late Missouri congressman, is located in midtown St. Louis and has all of the medical center's operative surgical capabilities, the ambulatory care unit, intensive care units, outpatient psychiatry clinics, and expanded laboratory.

The Jefferson Barracks Division is a multi-building complex overlooking the Mississippi River in south St. Louis County. It provides psychiatric treatment, spinal cord injury treatment, a nursing home care unit, geriatric health care, rehabilitation services, and a rehabilitation domiciliary program for homeless veterans. (source)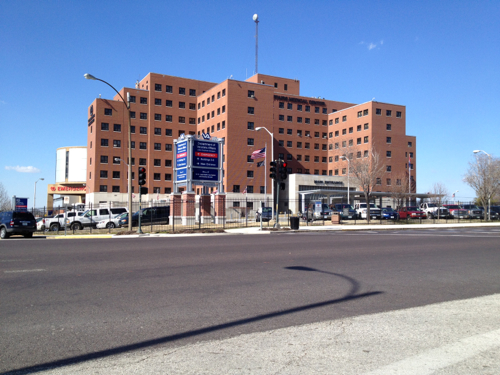 The John Cochran facility, located in midtown, was built in the 1950s, on the site of the once-opulant Vandeventer Place private street:
Founder, Peter Lewis Vandeventer, came to St. Louis in the 1860s with brothers William and Henry Barnum Vandeventer. Peter Lewis Vandeventer and Henry Barnum Vandeventer were Wall Street stockbrokers with a firm located at 6 Wall St., New York City. They made their money from selling stocks and took the train west to St. Louis to invest it in land.

Peter Lewis Vandeventer died in 1879, during the development of Vandeventer Place, a gated, luxurious private place in the neighborhood with stately mansions and a beautiful fountain as its centerpiece. His Missouri estate was managed by several corrupt lawyers, who stole much of the money from the sale of the lots at Vandeventer Place. His family remained in St. Louis for some time after his death, living in Vandeventer Place in a large mansion.

Vandeventer Place met with its demise in 1947, when the eastern half was demolished for the Veterans' Administration's new hospital. The western portion was demolished about ten years later, when the City acquired it as the site for a children's detention home. The fountain and east gates survive in Forest Park. (Wikipedia)
e from Grand Avenue. Photograph by unknown, ca. 1902 Missouri History Museum Archives." src="http://www.urbanreviewstl.com/wordpress/wp-content/uploads/2013/07/Vandeventer-Place-1902.jpg" width="500" height="257" /> Bird's eye view looking over Vandeventer Place from Grand Avenue. Photograph by unknown, ca. 1902 Missouri History Museum Archives via STL250, click to view.